The Good, The Bad and The Downright Ugly!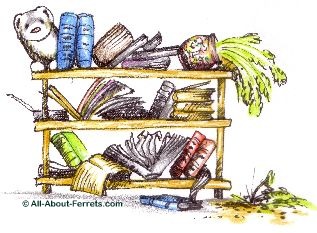 G'day
This site is all about ferrets, so if you've ever wanted a ferret, or you've already been taken over by one of these enchanting animals, then you're in the right place.
Because it's not only all about ferrets, but a whole lot more – there's heaps to learn about the whole mustelid family (ferrets, badgers, otters, weasels, stoats, martens, etc).
If you've ever wanted to know …
How to look after ferrets
Where ferrets came from
What to look for when buying a ferret
Whether there's a limit to how many socks they can possibly steal. (By the way, the answer's "no")
and …
for you lucky people in Europe who can take your ferrets on vacation with you, I hope you'll never need this page but *should* your ferret get sick when you're in a different country, you can find a ferret vet in (hopefully) any European country you're in! ?
Anyhow – that's the easy stuff – you can find that anywhere!
But how about this … ?
Now THERE's some stuff you're not going to find out easily! Good "quiz night" material too!
****
But for those of you who are already ferret owners, I would love it if you'd share your stories with all of us and, more importantly, with those who are thinking about becoming ferret owners.
Tell us about the scares you've had when you thought you lost your ferret/s and how important it is to
ferret proof
your house!
Or if you've found a decent
natural remedy
for your sick ferret, please share it with us. That sort of advice will be of huge help to those who find themselves with a sick ferret and are anxious to know how to get additional advice about how to help their pets recover.
And for those of you who've lost a ferret to illness, an accident or old age, remember them at the
Rainbow Bridge
page.
Write a short tribute in their memory … we will all share your sadness but also will be able to celebrate the life of a wonderful pet.
---
When I said this site is all about ferrets, of course it can't possibly have EVERYTHING there is to know about ferrets! But what I've tried to do is bring you a fascinating collection of things both practical and whimsical.
Everything I've learned about keeping these gorgeous little ratbags, loving every minute along the way. Plus a whole boatload of other stuff about ferrets and other mustelids.
So, take a while to visit the links below (or over at the left) and explore the wonderful word of ferrets (and mustelids!)
Enjoy and hooroo! (That's Aussie for "see ya later")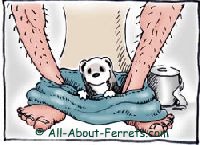 Note – no ferrets were harmed in the production of this website. Any similarity between the reader and any of the ferrets illustrated or mentioned in any way, is purely coincidental ?
---
Big News Below!!! ?
All About Ferrets has a new owner! ?
Anja has been a part of the ferret world since 2012 when she got her first ferret, Frida. A few years later she got an addition, a small but energetic bundle of joy named Yoda!
She loves everything about ferrets and she wants to share good and quality information about them so other people can see what awesome pets they are.
I know Anja will give new life to this website and I am so happy that I found someone who loves ferrets as much as I do to take it over! ?
Cheers
~Nona