[wp_ad_camp_1]
There is nothing more heart stopping than the realization that your ferret is definitely not in the house so must have got out.
When our kids were living at home, ALL of our ferrets wandered. CJ was the only one who actually came home – he banged on the security door at 3 in the morning THREE times. The first time Philip went to the door and turned on the light and couldn't see anything, as CJ was standing close to the door. Same with the second time and it was only when the banging went on for the 3rd time that Philip actually opened the door and saw the little fellow standing patiently out on the porch, waiting to be allowed in.
Phew!
However all of the others ended up either at vet offices, were found by ferret rescue or by a neighbor.
Here are some suggestions on what to do if you discover you have a lost ferret 🙁

Get a squeaky toy and walk around the block, squeaking. You never know, your ferret might just be a couple of houses away and when it hears the squeaky, it will come running.

Make posters and put them in all the mailboxes in your immediate neighborhood.
[wp_ad_camp_2]


If you can legally put the posters on shop windows, lamp posts, etc, do that as well. The more posters you have out there, the more chance of someone calling if they find your ferret.

Is there a ferret shelter/association nearby? If there is, call and tell them you've lost your ferret.

Does the shelter/association have a ferret rescue? If they do, call and let them know your ferret is missing.

Ring every veterinarian office in your neighborhood. Let them know if your ferret has been microchipped, so that they can check if a ferret is brought to them.

Is there a municipal pound in your area? If there is, call them and let them know your ferret is lost.

Put ads in the Lost & Found section of all the local papers.

Leave a cage with your ferret's bedding outside your front door with food and water. You never know, it might just wander back and if it finds familiar bedding there, it will curl up and go to sleep. Check the cage regularly just in case.
Do NOT give up too much information in the description of your ferret. For instance, if it has any distinct markings, like one white whisker or a splash of white fur on its head, keep that to yourself so that you can easily identify your ferret to anyone who might have found it.
There are a lot of unscrupulous people out there and if someone knows there's a found ferret and has the complete description of your pet, he might just call up and pretend to be the owner.
The sooner you do the above once you know your ferret has gone walkabout, the better chance you'll have of recovering it safely.
[wp_ad_camp_3]
Below is a sample poster along the lines of the ones I used to hand out when our ferrets went missing, just to give you an idea.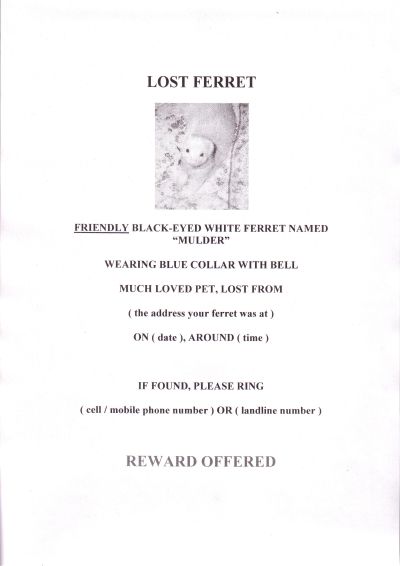 ****
To give you hope for your lost ferret's return …
Awkward Laser Photo Helps Lost Ferret Find His Way Home
Dunfermline pet ferret Chewbacca found 10 miles away after Burntisland adventure
Mo Ferret: Marathon mammal travels two miles across Norwich
****
General advice for recovering ferrets, etc. (PetFBI)
Tips to help find your lost pet (Petsearchers Canada)