[wp_ad_camp_1]
Training your ferret … hmmmm!
Let me think now …
… is that an oxymoron? ?
People do train their ferrets not to do certain things and I'm sure they get magnificent results from their determined efforts but I, alas, am not such a dedicated soul regarding the general stuff.
Training them not to nip or bite, yes. That is SO important, because you don't want to have a ferret which is a mischievous little brat.
But the other stuff, like training it to go into the litter tray or not to dig in the water or food dish???
If you have the time and patience – go for it! I wish you all the best!
I've found that the success of trying to train a ferret depends entirely on the ferret's personality.
For instance ….
With nip training –- some of our ferrets have understood from their first "No" that they shouldn't play rough and are so gentle I would trust a child to hold them.
Others know they shouldn't nip but just can't seem to stop themselves. You can almost see them wincing as they go for your feet because they know they're going to get into trouble .. but what the heck!
With litter training — one ferret will be asleep in the chest of drawers and when it wakes up, instead of using the spot where all the others poop and piddle, it will run out of the room, down the corridor and find some obscure place (like under the desk in the study) to relieve itself.
Another will be asleep somewhere else and, when it wakes up, will run straight to the designated area and relieve itself.
Harness training? Well, I usually end up carrying my lot on the odd occasions we take them for a walk.
And as far as getting them not to dig …? * Snort *
Snoopy is almost an obsessive compulsive when it comes to trying to get into the mattress, no matter what obstacles we put around to try and deter her. It was only when Philip finally screwed the boards against the four sides of the base of our bed and she found she was well and truly licked that she gave up.
Now she's hell bent about getting inside Philip's chair, and we have to think of all kinds of creative ideas to keep her out!
None of the other ferrets has any interest in mattresses or the chair, only Snoops.
And Otis is the one who loves to snorkel in the dog's water dish and also dive into her food dish, so as to scatter her food all over the laundry floor. That caused a bit of a challenge but I found the solution by buying a couple of $2 non-skid mats and putting the dishes on them. Apparently the fact that he can't push the dishes around while he's head first in them spoils the fun so he's left them alone since my purchase! Bliss!!
House plants? We just don't have any inside.
Carpets? They have all been pulled up and wooden floors have taken their place right through the house.
However – it's always good to know the principles of training so I've just written down my opinion on how to train ferrets, together with what other owners have told me works for them, and hope the advice will be of help to any newbies out there! ?
---
Nip Training
IMHO, this is the most important thing you should do because no one likes a ferret that bites. If your ferret is nippy, you have to make it understand that that sort of behavior is unacceptable because it wouldn't be fair to the ferret if you stopped interacting with it because you were afraid it'd bite you.
Young ferret play involves lots of biting and because their fur and skin is quite thick, they'll happily use their teeth when playing with us. Ouch!
Generally speaking, adult ferrets nip because they're frightened, scared, or were not handled when they were young so aren't socialized properly. It can also mean that your ferret is deaf or blind.
If you have a kit who's nipping because of enthusiastic play and not out of fear, you can grab it by the scruff of the neck and shake it (not hard but firmly), making a growling noise like its mother would.
You can also say "NO" very loudly and tap it – don't smack it – on its bottom.
Again, don't tap it so hard that you send the ferret flying – it's enough that the ferret equates the word NO with an uncomfortable sensation on its bottom and usually when that connects, all you have to do is say "NO" and the ferret will stop nipping.
If the ferret is older and hasn't been socialized properly, you might find that it will bite rather than nip and that will need a lot of patience and understanding on your part while you are training it that biting is unacceptable.
So, what do you do when a large adult ferret bites your finger?
You can try to push your finger further into its mouth so that it gags and lets go. Or you can squeeze the sides of its jaw to open its mouth and if that doesn't work, then you can put its head under running water, all while you are shouting "NO".
I know that most ferret owners don't agree with the concept of nose flicking but I've had occasions when we first got Milo and Otis and found that Milo would bite my eyebrow or lip if I put my face down close to him. If I tried to shake him by the scruff to let go, he'd just bite down harder. In desperation I've had to flick his nose hard several times so that he'd let go. However when I was flicking his nose, I was also saying "NO" very loudly so that he would understand his behavior was unacceptable.
That was quite an experience, I can tell you! Now let me just explain that when I got them, they hadn't been handled for the first five months of their lives. Plus they both had very skittish personalities so would get nervous with sudden movements, etc.
I've had them for two years now and am finally able to kiss them both on their nose without any worries but it took time and a lot of handling (and spilt blood ?) for them to realize that they had no need to be scared of us.
Kahlua knows full well she shouldn't bite but once she's under the sheets, she seems to think it's her right to attack any toes or ankles or even kneecaps she comes across. Quite often I see her lick, lick, licking before she chomps down and her eyes are screwed up as if to say, "Oh oh — this means trouble but I just can't help myself!"
When I shout "No", she lets go immediately and looks at me as if to say, "Spoilsport!"
You can get some Bitter Apple and apply it to your hands so that the ferret would get a nasty taste in its mouth if it nipped. If there is no Bitter Apple available in your area, go to your vet and ask him to recommend something similar.
Another option is having a water spray bottle nearby so that if your ferret thinks it funny to nip and run, you can squirt it and yell "NO" at the same time.
As long as you persist in saying "NO" when you punish your ferret for nipping, it will learn to associate that word with your displeasure and eventually all you'll have to do is say "NO" and your ferret will stop doing whatever he shouldn't be doing.
If you find that your new ferret is deaf or blind, then you will have to take special precautions that you don't startle it when you pick it up.
If it's blind, then call its name before you approach it so it knows you're around. If it's deaf, then stroke it gently before picking it up.
Take time to train your ferret not to nip and you'll find it's well worth the time and effort.
DO NOT take it to the vet to have its canine teeth filed down or removed. That is barbaric and any decent vet will refuse to do it.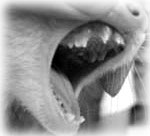 Here are some sites which might give you more ideas about nip training …

Nip Training Ferrets (STA Ferret Rescue)

How to Train a Ferret Not to Bite Co-authored by Pippa Elliott, MRCVS (wikiHOW)
---
Litter Training
Ferrets can be trained to use their litter tray but unlike cats, they don't automatically go in the tray.
Generally speaking, ferrets will back into a corner to relieve themselves.
They usually go immediately after waking up, so if you want your ferret to come out and play, make sure you wake it up and leave it in its cage until it uses the tray to avoid accidents.
If you see your ferret backing into a corner, not the litter tray, just pick it up and put it into the tray. Once it has finished using it, praise it and give it a special treat. The ferret will soon equate using the litter tray with getting nice treats, so that will encourage it to always go in the tray.
If your ferret is running around the house and you notice it backing into a corner in the room, pick it up and quickly put it in the litter tray.
If your ferret lives in the house, then you'll find that it will usually use the same corner in the room so if you don't want to put a litter tray down on the floor, use a newspaper there.
When your ferret is running around the house, it might poop or piddle in other corners or even in the middle of the room.
Buy a good supply of cheap toilet rolls – you'll be able to use them to clean up any accidents.
Don't push your ferret's face into its poop or piddle if it accidentally goes in the wrong place – it's pointless and cruel.
Here are a couple of articles which should help you with litter training your ferret …

How to Litter Train Your Ferret Co-authored by Pippa Elliott, MRCVS (wikiHOW)

Training Your Ferret to Use the Litter Box by Rebecca Jones (PetPlace.com)
[wp_ad_camp_2]
---
Harness Training
NEVER use a leash which is just attached to a collar. The ferret will easily slip out of the collar and run away. The best type is an H-brace harness which fits snugly around your ferret's body neck and body and which they can't wriggle out of.
Some ferrets tend to lie flat when they get their first taste of walking on a leash outside and the owners often end up carrying them around. If your ferret does that, don't drag it along but pick it up and put it down occasionally so it can smell the grass, etc. Slowly it will get used to going out and walking with you.
Make sure you keep an eye out for passing dogs and pick your ferret up if there's one close by. Also resist the temptation to let strangers pet your ferret when outside.
Don't take your ferret out when it's very hot or cold.
Before you take your ferret out for a walk, make sure that your ferret's vaccinations are all up-to-date so that it doesn't pick up any diseases (like canine distemper).
An article which might give you ideas about harness training …

How to Train Your Ferret to Walk on a Leash Co-authored by Pippa Elliott, MRCVS (wikiHOW)
---
Teaching Your Ferret Not to Dig

House plants
You can always identify a ferret owner's house – no house plants!
If you do have house plants and you don't want to get rid of them, go to a garden center and pick out some heavy stones to put on the soil.
Make sure that they stones are heavy enough so that the ferret can't flick it out but that you can pour water through the stones to keep the plant watered. Note though, that if the stones aren't literally glued together, it will probably be a waste of time! Ferrets are really persistent. All contents of potted plant belong on the floor!

Food dishes
Ferrets also love digging in their food dish and snorkeling through their water dish, and even in your dog's or cat's food dish.
If your ferret is digging at the dishes in its cage, get a bowl that angles inwards and don't fill the dish up with too much dry food. Also replace the water dish with a water bottle – but be aware some bottles leak.
If your ferret runs around the house and causes mayhem with his food dishes there, I found that putting the dishes on non-skid mats have somehow made it not so much fun to mess around in.
Put your cat food bowl up high, like on the top of the washing machine, and make sure you feed your dog separately so that the ferret isn't around to play in that dish.

Beds and couches
Some ferrets don't care about scratching your mattress or couch, while others are totally obsessed with getting inside, and wrecking, both.
If your ferret has free run of your house, be aware that he might just find it nice to go under your bed to poop or piddle.
I suggest you do whatever is necessary to prevent your ferret having access under the bed. ANYTHING!
With couches, it depends on the style. We recently bought a lounge suite and I thought, because it was very low to the ground and the fabric very tough, that our ferrets wouldn't be able to get into it.
Stupid mistake!
Little did I know that there were openings in the top two corners of the sofa, behind the fitted cushions, and one ferret found its way inside the couch that way. She then told the others and I suddenly had all 6 of them scratching their way up the back, behind the cushions to get into the couch.
We cut a small flap at the back (yes, a brand new $1000 couch!) so that the ferrets can go in and out without wrecking the back but that didn't work because they'd lie on the material at the bottom and use that as comfy hammocks. That also made it easier for them to scratch at the foam inside, so we cut the material away and emptied two jars of white pepper on the floor before tipping the couch back upright.
No more troubles with ferrets sleeping inside the couch.
This is war, people ?

Carpets
If you have carpets in your house and you need to keep certain doors shut, get a plastic sheet, cut it in an inverted H-shape (to fit around the door frame) and put it under the door. Once you stick the plastic down with duct tape, it should keep the carpet safe from your ferret.
However be aware that some ferrets will pick at the duct tape and they might be able to get under the plastic. If that happens, pour white pepper down on the carpet – that will make the ferret sneeze when in the area so it will put it off going under the plastic.
If your ferret loves to dig, get a plastic tub and fill it with gravel for fish tanks, or maybe ping-pong balls, or even rice or short pasta. That is a healthy, safe way for your ferret to enjoy its favorite pastime  ?
[wp_ad_camp_3]
---
Teaching Your Ferret Tricks
Huh? Tricks? Oh no, I have never tried to teach my ferrets any tricks. They're the ones that taught me to jump hoops for them! ?