[wp_ad_camp_1]
A ferret is a pretty stoic animal and if you don't pay him much attention, it would be easy to miss the signs of illness.
As I've said earlier, when a ferret is sick, he goes downhill pretty fast, so you MUST be aware of the signs so that you can give your vet as much detail as possible about any problems.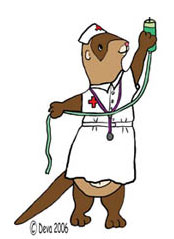 I have listed below, in alphabetical order, medical information for ferrets … the illnesses and ailments that can affect them.[wp_ad_camp_2]
They are just "snapshot" descriptions of the various problems, certainly not in-depth and are not written by a veterinarian.
You may, if you wish, do a quick search of the site here, by inputting your search term (for instance "drooling"), to find quick information about what you think might be an ailment. However, you MUST understand it is no more than a search of what is on my site, NOT specialized veterinary information.
This Google Search box isn't particularly clear – you type the search term you're looking for then click on that grey box at the right. The results will pop up but when they did, I thought there was only one. However I then saw that there were 31 results so scrolled down to find them all   😀
The information listed is only for general advice and guidance and whatever you do, DO NOT SELF-TREAT your ferret.
If notice your ferret showing any of these warning signs, please take it to a ferret knowledgeable vet IMMEDIATELY.
And I got an email from another ferret fanatic telling me about the dangers of fire ants and ferrets.
They are in Texas but have also invaded Australia, having been found around Brisbane and Melbourne so to learn more about that problem, click here.
I have added a page called Natural Remedies for Ferrets and invite all ferret owners who have given their sick ferrets alternative treatments to share their advice, thoughts and suggestions so that others can benefit from the information.
Just click on "Natural Remedies" in the table below.
---
[wp_ad_camp_3]
---
Sites with general medical information about ferrets
Anatomy

Ferret Internal Anatomy
Diagnostic Values

What are normal body temperature, blood test results, etc (Ferret FAQ)

INTERPRETING THE CHEMISTRY PROFILE
IN FERRETS by Joerg Mayer, Dr vet med, MSc (PDF)

Urinalysis: Testing a Urine Sample (Not ferret specific)
Drug information

Ferret chemotherapy drugs and dosages (ResearchGate)

Ferret Medications (Wedgewood Pharmacy)

Bova Compounding (Bova)
Medical Emergencies

It's time for an immediate veterinary visit if your ferret suffers any of these eight medical signs or situations by Jerry Murray, DVM

Ferret Illness Symptom Chart (FACT) (PDF).
Skeleton

Explore The Ferret Skeletal System by Jerry Murray, DVM

Ferret Skeletal System
---
Sites with General Information on Sick Ferrets

Common Respiratory Issues in Ferrets

Feeding Sick Ferrets

How to medicate a ferret Veterinary Center for Birds & Exotics
(YouTube)

Deslorelin Implant in Ferrets Veterinary Center for Birds & Exotics (YouTube)
---
Medical Information which is not Ferret Specific but Does Apply to Ferrets (from Long Beach Animal Hospital)

Anesthesia

Arthritis

Fluid Therapy

Home Care of the Surgical Patient

How to Read a Radiograph (X-Ray)

Laser Surgery

Sarcoptic Mange (Scabies)

Symptoms of Diseases
---
Non-ferret specific site about cancer
This site is for dog owners but the information about various cancers and what to look out for is something which could help us ferret owners. It's worth checking out.

Australian Canine Cancer