[wp_ad_camp_1]
I've collated a list of ferret vets from around the world but please understand that, apart from the one I know in Western Australia, I have no idea how good, bad or indifferent all the others are.
It is up to you, as the ferret owner, to make sure that you find a vet whom you feel comfortable with and who understands all the special requirements of a sick ferret.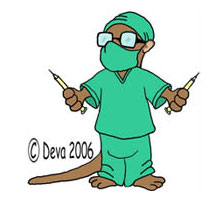 If you want a holistic vet for your ferret, I've found a few around the world for you to check out. Please go to Holistic Ferret Vets on the Net
I really hope to be able to find more on the Net or by word-of-mouth as time goes by … and please … if YOU have a holistic vet you think is great, please let me know and I'll add his/her name ?
[wp_ad_camp_3]
---
DISCLAIMER: I have no firsthand knowledge of how experienced any of the vets are with ferrets.
It is up to you to make sure that you are happy with the treatment your ferret is getting from your vet. If you have any doubts at all, please think about getting a second opinion so that you know that your pet is getting the best possible treatment available.
---