by Lauren
(Dallas)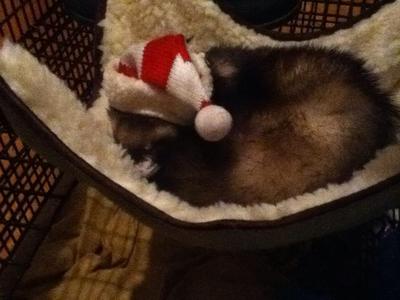 Butters, taken last Christmas
2 weeks ago, my 2 year old ferret Butters somehow injured himself and wasn't putting any weight on his font paw and was basically army crawling around.
We took him to the vet and he couldn't really tell from the x-rays where his injury was. He did notice that one part of his spine was just slightly out of uniformity with the rest of the vertebrae. It was decided that it was a pinched nerve and Butters was put on steroids and pain medication. In 2 days,Butters was back to normal, he could walk like he did before and we thought we were out of the water. But after about 3 days, he started limping again and went back to crawling (this was when we started taking him off the pain meds and only administered the steroids- I think that's where we went wrong).
We took him back to the vet and he gave us an anti-inflammatory this time for the nerve. Since then, Butters has moved very little to not at all. He won't even crawl and when he tried to move he gets these awful muscle spasms and cries. It's hard to move him or re-adjust him because every time we do he gets a spasm. The good thing is that he has been eating and staying hydrated. He also goes potty still, but he does it laying down and cries because pushing his little muscles hurts and makes him spasm. The vet is giving up hope and said if he isn't better in another week than he has no faith in Butters' recovery.
My friend told me about her dog having paralysis and she did holistic medicine along with rehab to get him back to health. I am willing to do anything to get Butters back to his normal happy nature and am considering holistic medicine. If there is an advice that can be given, I would greatly appreciate it.
Comments for Advice Needed
Dec 11, 2014
Poor Butters 🙁
by: Anonymous

Have you contacted a holistic vet to see if s/he can help Butters with his spasms? The poor little guy, but thank God he has a great, caring owner!I found this site for you … it might help if Butters needs temporary help for getting around

http://www.instructables.com/id/The-FerretMobile-DIY-Ferret-Wheelchair/

There is also information about hind leg weakness on this site, which may or may not help you …

http://www.veterinarypartner.com/Content.plx?P=A&C=10&A=481&S=0http://www.veterinarypartner.com/Content.plx?P=A&C=10&A=481&S=0

Glad to hear he's eating and drinking well though. Perhaps you could ask the holistic vet what supplements you could give Butters to keep him strong?

I give my guys a daily smoothie of
* 250ml no lactose milk
* 1 egg yolk
* 1/8th teaspoon black seed oil
* 1 drop of astaxanthin
just to try and ward off any nasty bugs or tumours from starting up in them.

I really hope you'll find someone to help Butters with his spasms and that your little man lives a long and healthy life with you.
---