by Misty Greyeyes
(Surrey, BC, Canada)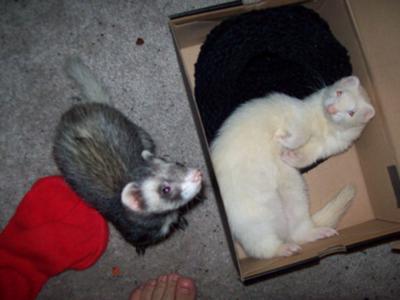 (present had as a pet) Reizo & Annabella
When I was 14 years old I saw ferrets for the first time and I knew I wanted a ferret as a pet.
Long ago I had a five ferrets, and babysitting too (with four males with my three ferrets, wow!) Three females chasing the male ferrets who are hiding from my female ferrets!
Later my three passed away. I know that's really sad but they went in peace without pain.
Then I saved a ferret who was about 1 years old from the SPCA who were going to put him to sleep. I took him to my home but, wow, he made my bedroom messy because he was just a year old (NAKO or NEKO).
My three female ferrets were Nicolette(4 years old), Bella (5 years old), and Jenna (3 years old). They knew that I loved them, same thing they're loved me.
Now I have two ferrets – they are Annabella (5 years old) and Reizo (4 years old). Annabella's name means loveable and joy while Reizo means cool; calm; well-groomed.
I'm thinking about buying another but my parent says no, but I'll buy one in summer.
I'm going show everyone that ferrets are not rats!
(female, 20 years old, lives in Canada, B.C.)
Comments for all about my history as a pet of ferrets 🙂
Aug 09, 2011
Misty!


Hey Misty I'm back from Turkey. I miss you so much!
---
Apr 02, 2011

Reizo & Annabella
by: Anonymous

Your ferrets are beautiful – you obviously are a very loving ferret owner and it shows 🙂

---