by Karen
(U.S.)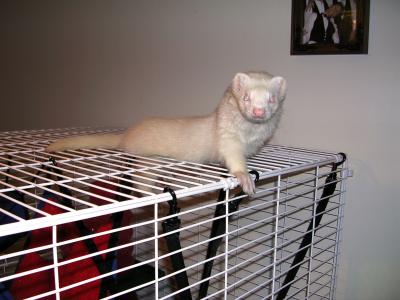 Angel 2002 – 2007
Angel was our sweet first ruby-eyed white baby. We found him almost full size at a Petco.
He had lived there for almost a year. Previous people brought him back because he had used the bathroom on the floor.
It was love at first sight for us, and we took him (and his brother Bandit, who also grew up at the Petco)home to be with Neo.
Angel crossed the rainbow bridge May 2, 2007 after being ill for several months. We just weren't expecting it so soon.
He was a free and gentle spirit, a loving baby, a Spazzy Chicken, and loved tummy tickles and playing with his family.
We miss him and are happy that he is healthy and bouncing again, playing with his brother Bandit, who just crossed the bridge last night. We know we'll see his dance of joy again some day.
We love you, Angel!
Comments for Angel
Mar 08, 2008
Albinos are special!
by: Nona
I know I shouldn't have favorites but I will admit that I'm a sucker for albinos. Yes, I love all my ferrets, whatever color they are, but to me the ruby-eyed whites are special.They all seem to have super loving natures and all I can say is that Angel was so lucky to have ended up in your place so that he could spend his life with a family who cared about him.
---