by Kelsey
(Michigan)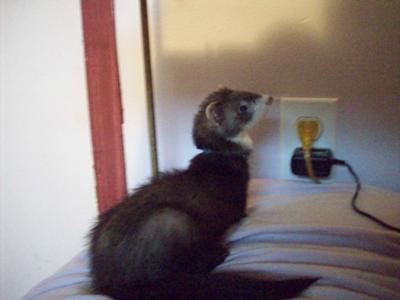 Baby Ellie
I have had my little terror for about, hmmm, 3 months now and even with all the missing things and messes around my room, I would never give her up or take buying her back!
She has made my life more fun and laughable, and certainly my boyfriend is in just as much love with her as I am. Actually, I think he might like her more than me.
Ellie is a cuddler and a kisser, she loves to get up and come lick me on the nose till I play with her. But I only have one problem — one of my cats is an indoor/outdoor cat and keeps trying to bite her on the neck and I don't know if she is going to kill her, but Izzy (my cat) purrs and rubs all over her before so I'm really confused about what she wants to do to Ellie.
If any one has any ideas please let me know! I would love to be able to have them play together….
Comments for Anyone help?
Mar 22, 2010
Cats & ferrets




Believe me the ferret will give as good as it gets-

cheers
Dave
---
Jan 13, 2010
Play.



My cats do that sometimes to my two ferrets when they get hyper, they also do that to each other. It is a play method used by some cats, however, even if they are just having fun it might result in injury. Always be there when they are together and discourage the behavior; my cats listen very well when I tell them no.
---
Jan 04, 2010
Ellie



It seems like Izzy is trying to be friends with Ellie but do be careful. Make sure you're always with the two of them and watch Izzy to see if there's any hint of aggressiveness.

My cats used to wrestle with my ferrets but they were very gentle with them so I felt happy to leave them alone together. However it took a while before I was comfortable doing that. Always best to be 100% that they are playing and not fighting before you leave them alone.
---
Jan 04, 2010
Don't leave them alone together



I would not leave these animals alone together. The cat may just be trying to play but it could really hurt the ferret.