by Karen
(U.S.)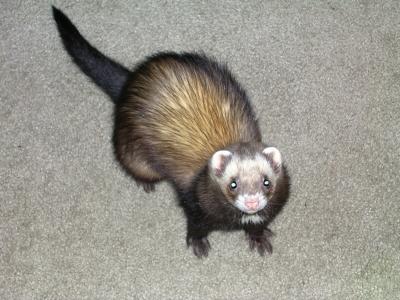 Bandit was our sable Mac Daddy. He lived for a year at a Petco with his brother Angel.
Like with his brother, it was love at first sight. We took them home to live with our first fuzzy, Neo.
Bandit crossed over the rainbow bridge March 3, 2008. He had been ill since Christmas and had several surgeries. He was a fighter and held on for a long time, but it just got to be too much for him and he let us know it was time. We just weren't expecting it so soon.
I guess we never do, but we were relieved for him to be released from his pain and sickness. He was also a free and gentle spirit, a loving baby who gave tons of kisses, a true Mac Daddy with the baby girls, and loved to play "lick, lick, chomp!" and playing with his family.
We miss him and are happy that he is healthy and bouncing again, playing with his brother Angel, who crossed the bridge May 2, 2007.
We know we'll see our Banditbean again some day. We love you, Bandit!
Comments for Bandit
Mar 08, 2008
Bandit reminds me of Snoopy 🙂
by: Nona
Your Bandit was a lovely looking boy 🙂
His face reminds me so much of our Snoopy – they both seem to have that slightly "worried" look. I know they weren't worried, but it just made me smile to see the similarity!

My condolences on your loss but Bandit  had a great life with you and will be waiting for you at the Bridge!
---
May 08, 2008
little lou
by: kf8ha AT Hotmail DOT com
i lost my little lou on the same day
---