by Debra & Mark Oakes
(Franklinville, NY)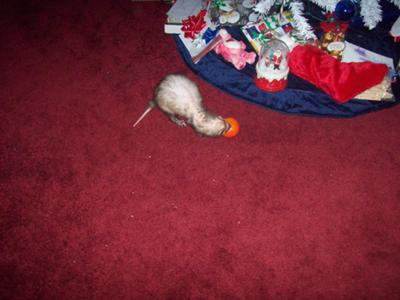 Bandit was born on April Fool's Day 2001, and passed a week before his birthday in 2008. He brought such joy to us, and will forever be missed. When he was diagnosed with cancer, we broke down but he was a little trooper right to the end.
It's true that ferrets comfort you when they are in fact the ones who are in need of comforting. there is not a more special animal than a ferret. It's been two + years, and yet the pain is still as strong as ever, being loved, or more importantly having the privilege of loving a ferret is a most rewarding "special reward".
The picture of our little prince that I am sharing was taken his last Christmas with us, as you can see he was sick but other than his appearance it is difficult to tell.
We miss you Bandit.