by Kelsi
(Chicago, IL, USA)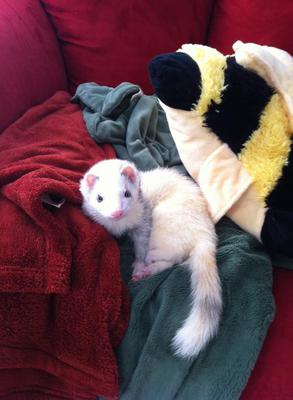 Enjoying an afternoon on the couch
Banjo was my first (and so far only) ferret. He stole my heart 5 1/2 years ago and he was my entire world.
He never met a human or animal he didn't like, and could charm the socks off of even those who thought they'd never like a ferret. Banjo loved to play and steal every pen I own. I could always count on a crazy war dance to cheer me up when I was sad. He would follow me everywhere when he was awake. Very helpful with housework as well.
He had a wonderful and happy life, but unfortunately had developed a rare skin cancer on his foot.
We treated it with medication for 2 years and he never even seemed to notice he had a bad foot. This week, the vet decided it would be best to amputate so it didn't spread and make him sick and I finally agreed.
I woke Banjo early Tuesday morning and we played and snuggled on the couch some. I showed him the new cage I had made for him for when he returned that would be easier to get around in with 3 legs. He happily went to the vet with me and I dropped him off, telling him he was going for a great pirate adventure.
I got a call at 4:30 from the vet, thinking it was to tell me he had done fine. Unfortunately that was not the case, and he passed away at the very end of the surgery.
I got to go sit with his little body for an hour and just pet him. He looked like he was sleeping like always. I tucked his faborite toy spider in his arms and left him with a kiss.
I'm so devastated and wish I hadn't done it. Then I'd still have my fuzzy little rat to cuddle with. I miss him terribly.
I am at least lucky that I have thousands of pictures/videos and wonderful memories. He's the best ferret anyone could ever have. I'm never met a gentler soul or happier spirit.
He always put a smile on my face. I don't know what I will do without him, and I hope he knew how loved he was. Until we meet again my sweet baby boy.
Love always,
Your mom
DIP Banjo Rat
4/26/2008-9/17/2013