by Christa
(Athens, GA)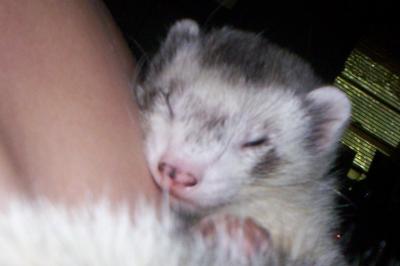 Such a beautiful boy
Blaise was a huge silver mitt boy. He became our alpha ferret.
I didn't even know he was adrenal until after he was gone. He showed no signs and pretty much just collapsed and was gone within 24 hours.
Blaise I'm so sorry I didn't know. I did the only thing I could and that was to sleep with you so you could have my beating heart be the last thing you heard.
I'll see you again son, and thank you for sharing your life with me.
Mommy
Comments for Blaise 10/2004 – 8/5/2008
Jan 22, 2009
Blaise
by: Anonymous
I lost my lil fellah just a little while ago to adrenal so I can empathize with your pain. At least now he's happy and playing with Pooh, waiting for you at the bridge.
---