by Jacque carlyle
(Olean.Ny.USA)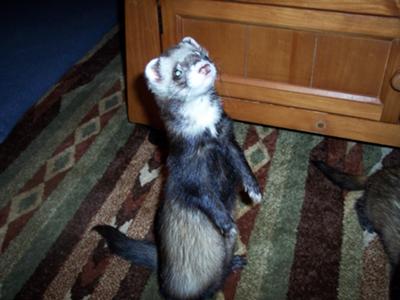 What do you think I'm standing here for??? Hand over that there treat !!!!
LOLFerret
Comments for BoBo
Apr 13, 2009
BoBo




Jimmy I'm sure your mother knows best, But I will tell you one thing. Once you bring a sweet ferret into your life, you will know what a joy it is to have a friend. Some times Jimmy, things are worth waiting for. Try reading up on what ferrets are like to own & there's a lot of sites out there & a lot of nice people who own ferrets to talk to.My BoBo is my live wire so to speak, he's 3 years old and my baby. Thanks for your comment & I hope some day you get your own BoBo.
---
Apr 13, 2009
Bobo




Love to see the way he stands. I want a ferret but my parents say not till I'm older. When I get one, I want one like Bobo.
---