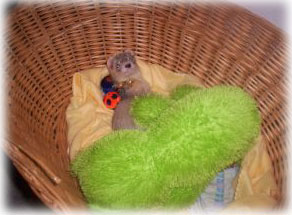 Bill from Texas is Boe's owner, and this is his story about finding out that Boe had insulinoma.
Hopefully what is written here will help other ferret owners who have the same problem with their pet.
Boe is doing much better, at least for the time being. For a while I thought I was going to lose him.
In January he lost a lot of weight and slept a lot, but Boe has always been such a quiet little snuggle bunny so his sleeping didn't tip me off that he was in trouble. I picked him up one evening and realized just how much he had lost, so I changed his food to Natural Balance Ultra Premium cat food. He gained weight and had more energy, but mid-March he started losing weight again.
In April he came staggering up to me like a drunken sailor and fell over. My gut told me Insulinoma. I'm not a vet but I have a wide range of experience in dealing with all kinds of animals, and try to learn as much as I can about any animal I'm dealing with, as well as treatments and remedies. But Boe's illness had slipped under my radar.
I finally found a vet.
April 9: after Dr. Pilgram's exam, she told me it was primary Insulinoma.
His glucose level was way to low 48.mg/di (>60) – 60 is normal – and his weight was only 880g.
She put him on prednizone 2 a day.
She gave me every thing I needed and asked me to keep her up-to-date on his progress. 3 days passed by and poor Boe showed no improvement.
I had to take him to the food and water so he could eat and his seizures were one after another.
April 12: at 2am that night I woke up with an idea. I needed away to get his glucose to level off, and build up his blood from the fatigue he was under, in order to give the predizone a chance to work.
I rushed to CVS Pharmacy then to Walmart.
Here's what I came up with … A POTENT but simple and effective remedy.
"RAISIN GLUCOSE MIX"
First pour in 3/4 cup of water in blender, add 10ml liquid Centrum and put on liquefy.
Slowly add 1 tube or 10 glucose tablets (4g/0.1oz) per tablet (whatever flavor you want).
2 x 1oz boxes of raisins, rinsed off well with water to remove excess sugar and drained.
Blend until very smooth. It breaks down faster in the digestive track and is easier to give orally with a syringe.
Quickly pour into a 8oz squeeze bottle, cap and put in refrigerator.
Get a 2oz squeeze bottle and cut the tip evenly so that a syringe fits snugly on the top.
Once the mix has chilled, shake well and fill the 2oz bottle.
You can freeze the rest for later use; it keeps well in the freezer.
DOSAGE
First give the med by your vet then the glucose mix OR draw the med from your vet then the mix.
Shake the syringe to mix together and SLOWLY feed it to the ferret as they lick it up.
For a small ferret you can safely give 0.3ml. For a large one – 0.5ml.
The first day I gave Boe the mixture, his seizures slowed down and he was more alert.
On the second day he only had 2 small ones and was wandering around the house.
The next morning he was eating and played with Jazzy, our cat, for a bit and no seizures!
It is now May 13 and Boe is off the glucose mix and is doing great.
I just give him his prednizone with flax oil and vita-sol twice a day and he is very active and happy!
Now if I can only get him to gain some more weight …
May 16: Boe is doing great, he's eating well now. the flax seed oil and vita-sol is working wonders for him, and his fur is silky soft now.
Bill wrote to let me know that they've taken in a new ferret called Josie and Boe was so happy with his new friend that he weasel wardanced to welcome her! Now that really is great news

May 29: BOE is turning into a butterball and continues to do great. He's energetic enough to play with the other two ferrets and chase them around the house.
Update: Sadly Boe lost his fight when he was 8 and a half years old.
It always breaks your heart when it's time for your ferret to leave you but Bill did a lot to help Boe's quality of life and I'm sure he lasted a whole lot longer than he would have without the supplements Bill gave him.
---