by Saralyn
(Texas)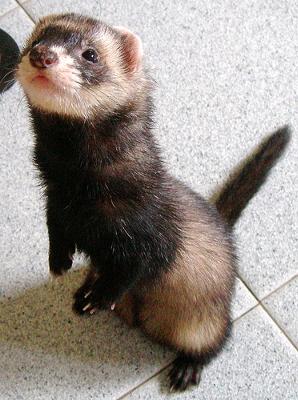 Ronald was always happy to be photographed he loved the camera
I got my first ferret about 9 years ago. I was 11 years old and I didn't do any research so I was winging it on how to be a ferret owner!
I bought a cage and top brand of food and the best of everything (well my mom did) and we didn't get a harness or leash we figured we would watch Ronald closely, but he darted from our vision quickly! He escaped from a hole in the fence (we had a privacy fence).
I was very worried and after no luck in finding him after 3 days I figured the worst and cried hours over it but my mom insisted we put flyers up in the supermarket! Lo and behold a woman had seen the flyer with the picture of Ronald on it and called us! She had caught a ferret running around the neighborhood a couple days earlier and took him in! 2 hours later we happily jumped in the car to go get him!
As soon as we got home we started researching ferrets on the computer! Thanks to the help of the Internet Ronald was around for 7 1/2 years! Now I'm going to be getting my second ferret in a few weeks 🙂
Comments for Catch that ferret
Dec 10, 2013
easy to catch a ferrett


Our female white ferret would crawl under her bedroom door as there was no one to keep her happy in her room at night.

She would climb upstairs to my room to see what I was doing. Once she was satisfied that I was safe in my room too, she would climb in the bath trash that had a plastic Walmart bag and tip it over and fall asleep in there. She never left the safety of that plastic bag and looked for it every night.
---
Jul 10, 2009
!!!


Hi I am also 11, though I know you are little older than that now. I have been doing so much research about them.. Just a little thought, you should have got two ferrets to start.. but great happy ending story!
---