by Jackie Burge
(Myrtle Beach, SC, USA)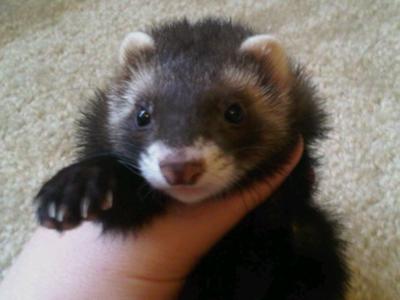 When I saw you that day at the pet shop you stole my heart.
So small and cute with your little pink feet.
We brought you home that day we saw you.
Sweetest thing I have ever seen.
You were our little dook machine.
We miss you Charlie, you left us way to early.
You were only 8 months old, when the good Lord took you.
We will always love you and think about you always.
Taking a nap will never be the same without you.
We will meet you again in heaven.
Be good our little man.
Rest in Peace
March 11th 2011
Love,
Your Mommy, Daddy, and Sister
(aka Jackie, Lane, and Sadie)
Charlie died from a stomach ulcer that slowly took his life. He was every small and only weighed 1.3lbs, so it was very hard for him to get better. If you have a ferret and something seems a little wrong, PLEASE get them checked for ulcers. Thank you.