by Nikki
(Riverside, New Jersey, USA)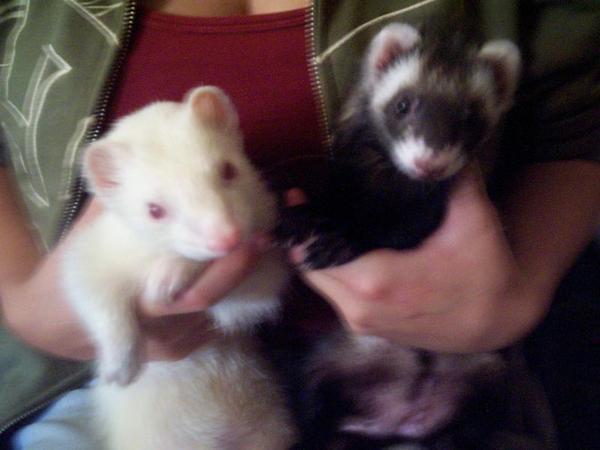 Critter is on the left, hanging out with his buddy Minks, my friend's ferret.
In 2005 my boyfriend and I already had two ferrets. A boy we called Gizmo and girl we called Jinx, both from the same litter.
We went to the pet store to get more supplies and saw this big, beautiful albino laying in his own cage. He had fleas, and he seemed very depressed. We asked the clerk about him and they said someone had him for 4 years and could no longer take care of him, so they donated him to the pet store to see if he could find a better home. We couldn't resist. Some people find those red eyes creepy but I was in love. The clerk told us we could come back in an hour and get him, they were going to give him a flea dip.
They never did (I never liked that pet store anyway)so the first thing Critter experienced in his new home was a hot bath. He took it well, and he took to Gizmo and Jinx right away.
We picked up one last ferret and called him Otto. I rescued him from the same pet store, he was starving to death so I quit my job (I worked there) took him home and nursed him back.
Otto and Critter were inseparable and when Critter died this past march(2008) Otto was as lost as my boyfriend and I. It was very sudden. He died on the way to the vet. So we took him home and buried him with treats and his favorite toy. He was very energetic and very sweet. Never nipped, always went in the cage to do his business, but you always knew when he was going to the bathroom, his butt was pretty noisy.
I sometimes forget that he's gone and have a thrill of panic when I do a head count and then my heart will sink into my stomach for a few moments as I reflect on Critter's passing. I will always miss him.
Comments for Critter
May 01, 2008
Critter

I am sure Critter was happy with you. & He will live in your heart as my Fluffy & Bandie do mine.
My Zoie is an Albino & she is the sweet heart of the three. Not that I don't love them all. Trouble Bubble & BoBo are my Wild ones. What can't think of the other will.

---
May 01, 2008
so sorry to hear about critter

I love albinos and I reckon they are the sweetest and kindest of all ferrets.
He'll be waiting for you at the Rainbow Bridge 🙂

---