by Jackie
(Greenwood, DE, USA)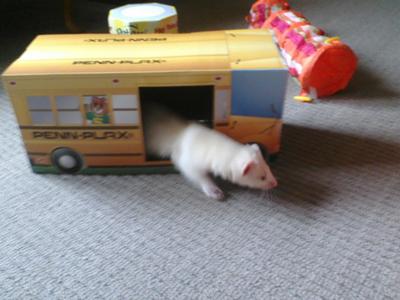 King Rufus
Just when you thought that you'd never find a pet you could truly be constantly entertained by……. along comes someone like Rufus.
He's a thief (as they all are)and if someone is looking to make a film about an 'animal-burglar' then they need to characterize it as a ferret. With a particular penchant for flip flops and my husband's 'grab stick', he'll store them away in no time, even when they're 4 times his size and weight. Play times can run anywhere from him just trotting beside you, to full blown mid-air twists and turns.
He's endured a $1000+ surgery when he got into a purse and stole some of those foam toe dividers they use in a pedicure. They swell (of course) and a piece got stuck. Seeing the little man hooked up to IVs was so incredibly sad but 3 days later, he's up stealing like nothing happened!
Comments for Ferrets Forever!
Jul 23, 2010
Rufus


He looks like an absolute sweetie and I am so happy that he survived his operation and is back to being a little thief with you 🙂

I had a ferret that had a blockage and it was touch and go for a while after the operation but she also pulled through and lived a long, happy life with us.

I think Rufus will be around to keep you laughing for a long time and I hope there won't be any more vet visits for quite some time 🙂

Hugs to Rufus!
---