by Meaghan
(Warwick, RI, USA)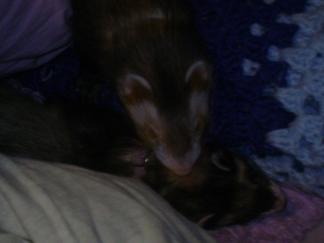 Aiden & Celeste
I got my two ferrets a little over a year ago, now, and it was one of the best decisions I'd ever made.
I found a male (Aiden) and a female (Celeste) bonded pair, who had been sold to a pet shop not too far from where I was living at the time. Their previous owner had moved and sold about sixteen ferrets in total, and these two were the only ones left. As a matter of fact, they'd been sitting in their tiny rabbit cage for about a year at that point, nameless, shotless, and pretty much left alone. :[
I fell in love with them at once, and brought them home. They were too weak to climb then, but now, they get into EVERYTHING. They're much stronger, and they love to play. They go from being house trained one day to pretending to completely forget what a litter pan looks like. There are some long days, as I'm in college now, but I always let them out when I get home, and they run around the house and play until they need to sleep again. I absolutely love having them around, and they really make it worth coming home.
I've had cats, dogs, birds, fish, and ferrets. I recommend the ferrets.
Comments for First Ferrets
Apr 06, 2009
First Ferrets


They are very lucky little ones to have you, & you them.
They are very clean about their bathroom habits, I found that if the litter box is soiled, they go elsewhere. At least that's the way it's with my gang. So I have more than one in their cage & around the rooms they play in.
---
Apr 06, 2009
Aiden & Celeste


That's such a great story.I bet Aiden & Celeste are thanking their lucky stars that you came across them and gave them such a happy life after all they went through.
---