by Rue
(United States)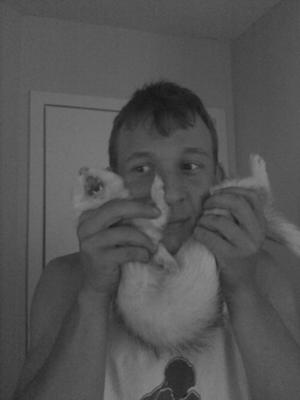 What me and my brother call a Ferret Beard
Okay. About 4 months ago I got my ferret Frankie. I had always wanted a ferret, and my parents have had them before which made it easier for me to get one because they loved their ferrets.
Frankie is so sweet and he loves to be held. He is suprisingly different from every other ferret I have met. He doesn't bite! He was about 5 months when we got him from a pet store so maybe he learned to do otherwise.
I love him and would never trade him for the world. He absolutly loves to play with my 3 cats and 2 dogs and they get along great.
Actually I was worried I wouldn't be able to handle him when I first got him I'm 13 and i have a social life.. so sometimes I'm not around as much as I should be but I wouldn't trade him for the world.
If I have a bad day, he brightens it :]. I play with him for at least 3 hours a day because he is caged, but he gets tired and sleeps a lot to.
I'm not exactly sure if I should get another ferret. I mean – he will have company and such but I'm not sure … would he become less social with me and my family if we got another one? … these are questions we haven't solved.
We would have to get a bigger cage, bigger clean ups not my favorite part of having a ferret and bigger responsibility, but he would have company and a buddy to play with. So we will see what happens in the future.
Comments for Frankie the Ferret
Apr 16, 2009
Frankie the Ferret


Two are twice the fun, No !!! I don't think Frankie would love you less, if you got him a playmate. He'd have company while you're gone. He's a cutie alright. Enjoy him. & Good luck
---
Apr 16, 2009
Frankie


I would have more than 1 .. they really like to snuggle and play :o) the more the merrier!
---