by Laura wilson
(Missouri)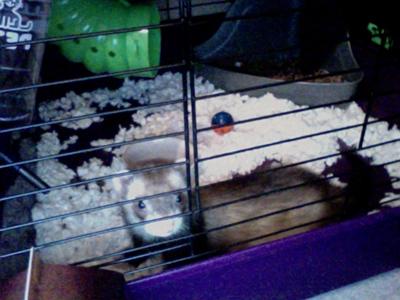 I'm in the midwest in the States… I just bought my first ferret! His name is Little Bear!
When my parents were in college they had ferrets and my dad would take his, Buddy, to class and Buddy would sit around his neck and sleep during class.
I wasn't really planning on getting a Ferret but I knew it was my parent's secret wish to own one again, even though they have no money in this economy today. I thought about it and then decided that I needed a pet of my own and something to call MY responsibility. So today I was walking around PetCo with my boyfriend and I saw him, the cutest little guy ever.
I played with him and fell in love. Bear has been so sweet! He has pooped me out already with his playfulness but I will truly enjoy him 🙂 He doesn't bite and he is already litterbox trained!!! He also likes giving kisses but we have only had him for a day so he's not too big on him! I can't wait to share this little fellas life with me!!! he's only 3 months old too!!!!
Thank you for the information because I have no idea how to take care of him except to play with him and hold him and give him food and water 🙂
Comments for Generations
Jul 10, 2010
Generations


Oh !! He looks so cute !! This is a great site to learn what it's like to be owned by a ferret. And there's a lot of great ferret owners here that are more then happy to share information with you.

Hope to see more of you & your sweet Little Bear. They are a joy & a lot of work.

I have 4 babies – I call them my sweet angels. Love them to death.
---
Jul 06, 2010
about little bear


I'm so glad that little bear found a home with you. I'm sure he will be very happy with you. He seems like a sweet but curious little guy. Ferrets are lots of fun, so enjoy..

~April Le Roy~
---