by Susan O'Keefe
(Australia)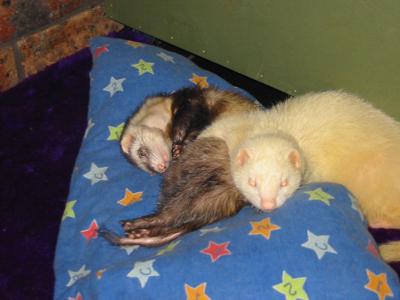 George holding Doris on a bad day
I wrote this for my George about 15 minutes after he went to the rainbow bridge to meet his beloved Doris and his mate Ralph.
Today we lost the best little buddy one could ever ask for. My George. 4 days ago we lost Doris,his mate.They would hold each other when they were having a bad, ill day.
George & Doris were our 1st rescues when we first joined ferret welfare. They became friends to our 1st ferret, Ralph.
Over the years George & I developed a special bond. I guess it was because the poor little fella had to fight illness most of his life. He was just so special.
We had a routine. I would get up early. George would go to the bathroom then just come & sit on my lap while I told him stories. He often decided when it was time to get up by coming into our bed and just sprawling out across my face.
Ferrets came & went in our lives. Some were spoilt, some were abandoned and some were just not wanted anymore.
Some were even abused.
We loved them all. There is something about the love of a ferret that you just can't explain and I guess this is why we do it.
The heartache I feel after losing Ralph, Doris and now George since September last year seems to never end.
If there is one thing I now understand, it is this.
I used to say that the ferrets were so lucky to have us to love & care for them. I now know it's the other way around.
The love we got from not only our Ralph, George & Doris, but from all the little ones we have had the pleasure of healing and finding them a new Mummy & Daddy, taught me this.
It is I who am lucky. I know the feeling of unconditional love and I will never forget them for that.
As much as I cry and hurt, I would not change it for the world.
To my George,… you can now dook with your beloved Doris and your buddy Ralph.
We will alway love you.