by Joe and Jill
(Illinois)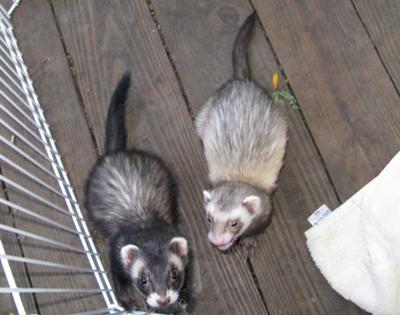 Mathilda and Gertrude
We had never had a pet ferret, but weren't quite ready for kids so we gave them a try. Two baby girls only 8 weeks old, born November 9 2003.
Mathilda was a small black sable that loved her "babies" (soft stuffed toys) and hid them in her favorite hidey holes. Gertrude was her bigger sister, a brown sable that enjoyed squeaker toys and above all else, foot biting. They were well traveled, going with us everywhere and never left alone overnight.
We learned quickly that ferrets are not some hamster-like pet to keep in a cage, but instead need lots of room to run and time to play. We gave them the largest room in the house and shortly after, the run of most of the house when we were home. They loved to travel, but on one sad trip October 26, 2008, we lost Mathilda suddenly and unexpectedly (Vet said probably cardiomyopathy).
We were devastated at the unexpected loss, and Gertrude went into a depression that we were afraid she wouldn't come out of. The vet recommended we get another ferret, or Gertrude might die too. In came the twins (Cooper and Harriet) and a few months later Sullivan. Finally last summer we adopted a research ferret we named Oliver. At this point we had a full house (3 cats, 5 ferrets, 1 son and 1 daughter, and an occasionally visiting old yellow lab named Pete that Gertrude loved to attack), but Gertrude always remained top priority. Gertrude took to her new friends and ruled the roost despite increasing health concerns (potentially early insulinoma, according to the vets). After 1.5 years of syringe feeding and constant love, care and lots of cuddling, we lost Gertrude April 19, 2010.
We miss her so much, and it is so hard to adjust to life without her since she had become the focus of all attention for so long. Though life and our house will be different without her roaming the halls, we are comforted in knowing she is reunited with her little sister.
We love you both and are so happy to have shared so much of our lives with you. We will think of you often and cherish the happy memories of our two little fuzz butts.
Comments for Mathilda and Gertrude
May 22, 2010
Condolences
by: Anonymous

I was so touched by your post about Gertrude and Mathilda. All I can say is that your babies were very lucky to have you and I'm sure they had a terrific life with you all.
---
Apr 27, 2010
Mathilda and Gertrude
by: John

I was so sorry to hear about your loss and send my deepest condolences.I had two close (ferret) friends many years ago and I lost them both within a week of each other, so I know how you must feel.

What is it about ferrets that they bind themselves so tightly to us, their owners, and when they leave us the pain we feel is almost raw.

Mathilda and Gertrude will be playing at the Bridge, waiting for you to join them one day – that must be something to look forward to 🙂
---