by Sarah
(Ohio)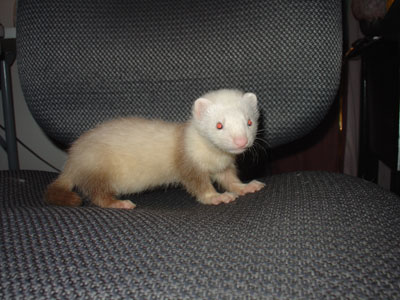 My Hannah (:
My name is Sarah, i am 16 year old.Ttwo weeks ago my parents aloud me to get a ferret, I named her Hannah.
I love her to death and would not give her up to the world! She gets along GREAT with my two chihuahuas! I was scared at first introducing them at first, but they actually liked her! (:
Comments for Hannah.
Oct 11, 2010
she is so cute!


Hey Hannah is soooo cute!! My little boy Sammie looks just like her!!! I'm a new ferret owner! I hope you and Hannah have a great bond!! So sorry to hear about the 2 that passed!!
---
Aug 09, 2010
Hannah




Oh what a sweet little angel she is. Love the color. Enjoy you angel but please do check out this site for information on ferrets & other pets.

There's a lot of wonderful ferret owned people here & they would love to see more of your Hannah & yourself.

Welcome to be owned by a ferret.

Hugs to Hannah & You

JC & Gang
Trouble Bubble
BoBo
Digger
Little Raven
Edner the dog
Piggy the goldfish
---