by Mindy
(Oklahoma)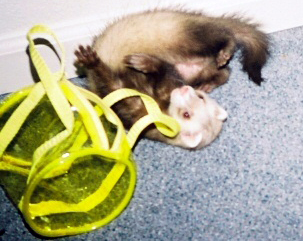 Hazel playing with her purse.
Hazelnut was a Christmas present from my husband. She was wild and playful. She was such a sweet little girl. She loved to groom everyone and her favorite thing to do was lick toes.
At the age of three she was diagnosed with adrenal disease. The vet removed the left adrenal gland but it eventually came back in the other.
I said goodbye to my baby girl on November 8, 2009. I will miss her greatly.