by Tammy
(Virginia)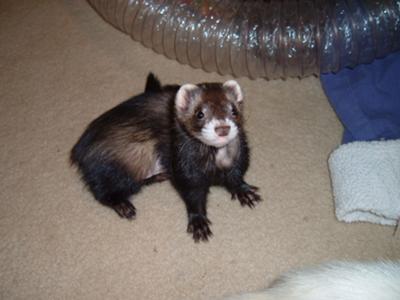 Mr. Herms you are my heart
Mr. Herms was a fighter! He was strong and loving and just plain adorable! We found out he had Lymphoma (in his intestines) and he was not even 1 years old. He got very sick..lost a lot of weight. He went down to 1.1 pounds.
After doing some research I bought him Carnivore care and I syringe-fed him 3 times per day from October to February then I fed him 2 times per day. He also was on prednisone once per day and I can say that he went up to 2.5 pounds.
He played and got to be a ferret again..
He fought up until yesterday (3/11/09) he had refused food for almost 1 week and was really just an unhappy ferret..it was his time.
He fought hard and beat the odds and I am so proud of him! He is my heart and I love him so much. Now he has no more pain and he can run and play and dance!!
I can not wait to see him again. It would not be heaven without you Mr.Herms!
WE LOVE YOU HERMES….YOU WILL ALWAYS BE IN OUR HEARTS