by Tammy
(Chesterfield,VA)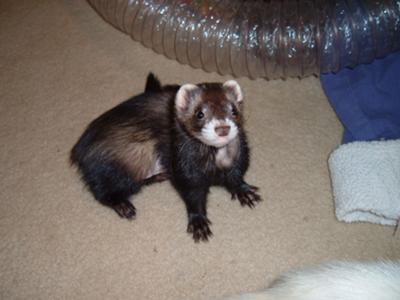 You are my heart!
Hermes..we also called him Mr. Herms was a fighter! He was sweet and soft and just fun to be around.
Mr. Herms had Lymphoma (intestines) and he got very sick. Well that just would not do.
Mr. Herms and I fought to make him better..I found a great food that put him on the road to recovery..Carnivore care is so wonderful!! I got his strength back then started the prednisone..He went from 1.1 pounds to 2.5 pounds after using that food. I syringe-fed him 3 times per day from October until February ..then he was eating some food on his own so I went down to twice per day..just to make sure he kept weight.
Mr. Herms got to be a ferret again..he played with his friends and danced and had a great time..It was so touching to see him go from laying around and weak ..to running playing ..
Mr. Herms beat the odds and because he was such a fighter he got to live for months! I am so proud of him..
I had to help him cross the Rainbow Bridge on March 11,2009. I think that had to be the saddest day of my life. He was my heart and it felt like someone ripped it from my chest.
We had such a bond..all those feedings and play times.. His sweet little face.. He was not even 1 year old..too young to cross over!
Hermes was loved beyond measure. I am so sorry Mr. Herms that I could not do more to help you..I am grateful for the time I had with you. You made my life special. I will always remember you and you are forever my heart!
I look forward to seeing you again. There could not be a Heaven without you Mr.Herms. I wait for the day I can hold you again and give you kisses.
Until then be at peace..play and dance. I know you now have no pain and you can be a ferret..that is all I ever wanted for you.
WE LOVE YOU SO MUCH HERMS!!