by Tia
(Pennsylvania)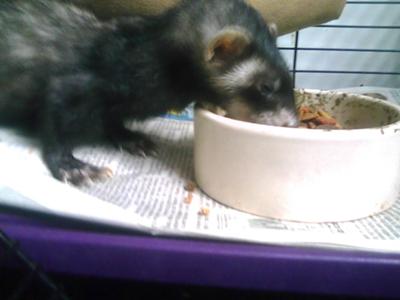 My ferret, Hollie, was as calm as could be. She was a friend to all nature, and unusually didn't prefer digging. We never knew her age for she was adopted, having no information other than her gender. I always looked upon her as a young ferret, filled with spirit. I never thought she'd leave me within only 2 yrs of spending her life with me.
I did EVERYTHING with her, I didn't know how soon she'd leave.
In August 20th, 2011 Hollie Patricia Jenson went to sleep at the bottom of her cage, although the sweet angel awoke in Heaven.
When I decided to move on and have another ferret, I created a tradition. Just like Hollie, all my ferrets' middle name will be the first name of a singer.
Currently, Hollie has a brother and sister in the mortal world, named Rosie Alicia Jenson and Moe Robert Jenson.