by laurie penny
(stourbridge, england)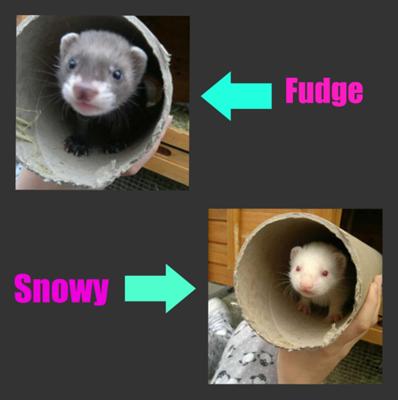 they wanted play
It all happened so fast but since it did, it's change my life around and here is how it all happened……
Well I was looking on the internet for good pets and on the list there was a ferret. At first I didn't know what they were but when I saw them, I automatically fell in love with them.
I had done lots of research on how to care for them and what they would need. I then looked on preloved *a site where they sell animals* and I saw an ad – the woman had baby ferrets (kits) for sale. She said that I could go and see them when I wanted to.
When I arrived there they were in a box and unnoticable. They looked so cute and one was all white. After a while I chose the ones I wanted. I was allowed to see their mother as well.
After a couple more weeks the day had come and I went to pick them up. When I arrived home with the ferrets, I decided to name them Fudge and Snowy. Fudge is very energetic and likes to explore everywhere LOL..Snowy is the cuddly one…
I hope that you will give ferrets the chance to go to nice loving home 🙂
thank you 4 reading
by Laurie Penny aged 12 x