by JC
(Olean, Ny. USA)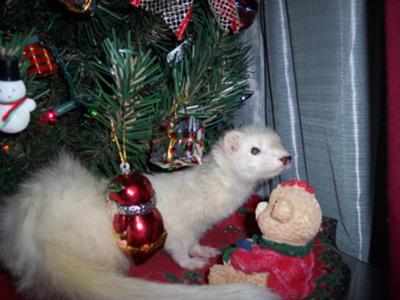 Icey X-Mas 2008
Icey was such a sweet natured little girl. She was a people ferret, never bit anyone even when playing.
When I took her in, she had not been around other ferrets, so she thought of you as a ferret. Every morning when I was getting ready to go to work, she'd be popping her head out to let me know she was awake. She'd always come or pop her head up when you called her name.
She was all white with black eyes & nose – just a beauitful baby.
I lost her March 11, 2009.
She went in for an adrenal gland surgery but didn't respond well afterwards. I had to help her over the Rainbow Bridge.
What can I say. I loved her. I miss her so much. I wish I had one more day with her.
Icey rest in peace sweetheart. We will meet again & our time will be well spent.
I love you sweetheart. Mommy is sorry.