by bill adams
(texas)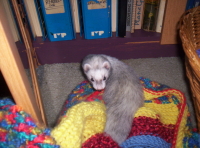 Julian, looking good!
WHEN we brought Julian home in Sept '07, 5 months ago, she was in very bad shape and little was known about her history aside from a girl dropped her off at the pet store saying she didn't want her because she stinks.
SHE was covered in fleas and filth; they cleaned her up and put her in quarantine for awhile and put her up for sale. The owner of the pet store had been taking care of her, doing what she could, but had very little experience with ferrets.
MY wife and I came in saw her and looked her over. My instincts told me that something was wrong but I could not pinpoint it at the time. She was very sweet and gave hugs and lots of kisses and was so eager to please, my wife said bring her home anyway so we did.
TWO days later she crashed and a trip to the vet revealed just what we were up against! She had a long list of problems and at first we felt blindsided and overwhelmed.
SHE would not eat or drink and was severely dehydrated, had an intestinal infection, swelling, possible blockage and/or parasites. She also had adrenal disease, a swollen vulva with discharge,
and was rapidly losing her fur; she was also anemic and malnourished.
DR Cruzen gave her fluids and amoxicillin, and took x-rays. After 2 days of handfeeding and meds, I brought her back for the results of the tests and blood work.
SHE had finally gone potty and gained a little weight but nothing else.
DR Cruzen told us she had very little chance of a recovery, but this little girl had been through so much already and this was her only chance.
SHE had showed a little progress and was still fighting, so I was not going give up on her.
AFTER 2 more days it was clear the meds the vet gave me were not working, so after doing about 8 hours of research and going through every herbal site I knew of, I finally came up with an idea and made a med mix for Julian.
A month later she started drinking water straight from the bowl, gained weight, got her spunk back and she grew fur from head to tail that was an off white and very short.
WELL it's now been 5 months and she is not the same ferret I brought home! I am so proud of her — she is energetic, playful and has a gorgeous thick fluffy coat; and she's very healthy with a new lease on life.
THE only thing I have not been able to do is get her to eat solid food but I can live with that ☺ After all Julian's been through …..it's a wonder she's still with us at all…..!!
Comments for …..JULIAN'S COMEBACK…..
May 17, 2009
Med Mix?



So, what was your med mix?
---