by Luanna
(USA)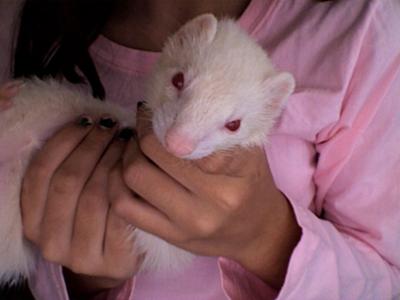 Well one day I was talking to my dad trying to remember the name guinea pig but he said "ferret" so I talked with my mom who said yes and so did my dad.
So the next day on February 13th at a Petco and the funny thing was that she was the last one there, she was albino and she was 3 months old. I bought her and we took her home, I named her Lillie.
Today we are a happy little family but I am dying to get another but i can't sadly.
That's Lillie

Comments for Lillie My Albino
Mar 17, 2012
Three's compay less is She's a beauty.


She's a real beauty.

More my two cents input I would indeed advise getting not one but two more little ones as that number allows you to have a back-up companion should you lose one of the others. Ferrets are fairly hardy animals but they will grieve the loss of a companion. If not given a great deal of attention when kept alone, they can get severely depressed, go off their food and die.

I keep three myself, all are rescue animals. The oldest is a four year old albino female named White Fir, two 10 month olds a sable male named Timi and a panda female named Tina.
---
Mar 10, 2012
Oh, Lillie!


Lillie sounds like a beautiful girl, and she looks like she has a big heart, and i think she's so cute!
---
Mar 07, 2012
Lillie


Oh Luanna, your Lillie is a gorgeous little girl 🙂

She sounds like a real sweetie pie and I'm sure she'll bring you many years of love and laughter with all her funny antics! You're a lucky girl!

Please give her a big kiss on that cute little nose of hers from me and my guys 😀
---