by Bella
(Leumeah, NSW, Australia)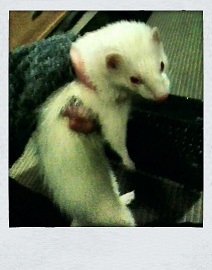 Yuki
Hi, first off I'd like to say this site is amazing and I'm sure it is helping a lot of people with these wondrous little creatures 🙂
I owned a ferret last year, my first time being a ferret owner, Lizard, but she was killed by a snake when going for a walk at only 6 months old.
After a year I decided it was time again to pursue adopting some of these critters, so along came Honey and Yuki, a pair of sisters that couldn't be more playful if they tried. We have only had them for about 2 and a half months and they are now about 4.5 months old, almost ready to be de-sexed… or not. To breed, or not to breed?
I will share some photos of these adorable babies 😉
Just the other day, though, Yuki, our albino baby, managed to get her claw stuck in her hammock bed and tore almost all of it off, bleeding way too much for comfort. She is now fine a few days later after us applying pressure to it and giving her some quiet time, but it is still caked in dried blood and she isn't as comfortable using it as the other paw.. I am just glad she didn't bleed herself dry!!
We only live in an apartment now that we are renting, so the ferrets are in their luxury cage, but I wish they could roam the house more often. If only they didn't leave their land mines in every crevice on the carpet! Toilet training them is proving difficult. Mainly they back up into the corner of their cage where the litter box is.. but they do it BEHIND the box. Of course they do! And they like nothing more than sticking their noses (or their whole bodies) inside the shoes. Honey's nickname is Honey Bear, and now I'm slipping 'Sailor Moon' in there too because she has a moon crescent shape of blonde fur on top of her brown head! And Yuki is Yuki Nose because she sticks her little pink nose in anything she can find!
Anyway, I'll be on the forums now, just thought I'd share a bit about my babies. They are beautiful pets (besides the smell), as playful as kittens and as smart as dogs, and my favourite (and their favourite) is bath time, in which they transform into otters!
– Bella
Comments for Little faces!
May 24, 2011
Your little faces are gorgeous 🙂


Thanks so much for putting up those photos of your babies. They're all so adorable and I'm sure they keep you on your toes every day 😉

So glad you're on the forum – looking forward to hearing more about your babies over the weeks!
---