by Nikole Roark
(Tucumcari, NM, USA)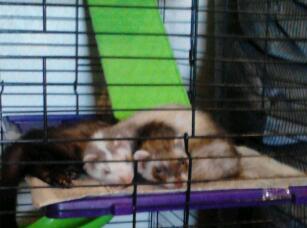 Slink and Bandit R.I.P
I had decided one day that I wanted a ferret for my hubby. He had always said he wanted one.
So one day I went to a pet store and found my 1st baby. A white female ferret I had named Slink. She was so adorable and fluffy – I just had to have her. Soon, after getting Slink, I moved to Texas and decided Slink needed a friend so I went to Petco and got a male sable that we ended up naming Bandit.
I fell head over heels for my 2 babies, but sadly 8 months later I had to leave them with my mother to go out of town for work. When I got back I came home to an empty cage. I asked my mom where they were (thinking they were running the house) but sadly I had come to learn the neighbor's cat had got to them when they were in the cage on the front porch. I was heartbroken….
However recently I have gotten a few new additions to the family. 2 brothers from someone that couldn't keep them any longer and a female I got the same way from a couple in NM (all found on Craigslist).
The 2 males I have now are –
a cinnamon male named Seth & a grey male named Saber. (Saber gets his name because he has a snaggle tooth grin. His bottom left fang shows all crazy.), & now my lil girl.
My female is a panda ferret we've of course named Panda x)
My 3 babies are all great! They are very happy and active, and even though they can't replace Slink & Bandit, they hold a place in my heart all the same.
Comments for loving memories bring more family members
Sep 16, 2012
You have gorgeous ferrets 🙂



I was really sorry to hear about Slink and Bandit :{ They sounded like they were a gorgeous pair and it's very sad they both had such short lives with you.

However I think it's great that you got more ferrets to add to your family and I hope they'll be with you guys for a long, long time 🙂

Loved seeing the pictures of all of them – thanks so much for sharing them with us!

You're one lucky ferret mommy to have had and to have such beautiful little fellahs in your life and they are equally lucky to have such a loving forever home 😀
---