by Erin K
(Pittsburgh, Pennsylvania)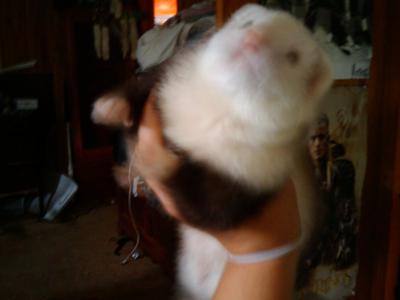 my favorite picture of her, showing of her bright pink nose
Meeko was my first ferret. She was only 9 months when she passed.
She was perfect, so sweet and loving. She taught me everything I needed to know on how to keep a ferret.
When I first brought her home I wasn't sure if I was ready for a ferret and took her back in fear. When I was leaving she jumped around and made her lil noise. It broke my heart.
I went home and couldn't get her off my mind in the day I had her so the next day brought her back home and ever since we were best friends.
She gave me kisses every morning and night as I gave them to her, always chased me around and played. Meeko, like any other ferret, got herself into trouble. Most of the time it was nothing.
My sister was home from school for the weekend and not being used to having a ferret out didn't take the correct precautions as myself and my mother were used to taking.
In no way blaming her, only myself, Meeko wiggled herself outside and was ultimatly hit.
Everyday I ask why I couldn't do better but I know it was an accident. She stayed with me as I tried to help her but let her go not wanting her in pain.
She was everything to me and will always be my lil girl in every way possible. She taught me everything I needed to know.
In no way am I replacing her but now have 2 kits to help with the grieving. They remind me the good times I had with Meeks rather than the end.
I thank you for listening and keeping Meeko alive. Hope to be reunited with her at that bridge one day.
Love you stinkybutt always….
1/25/2009-9/27/2009