by Christina and Dennis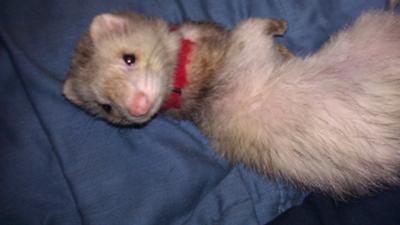 I remember the day you came in our lives. It was a beautiful summer day. The sun was shining bright as if the heavens were celebrating your presence in this world.
You Mocha were sleeping and your sister was the one awake. As beautiful and playful as she was, she was not the one meant for our family. You must have sensed that because you woke right up — as if you had a shot of mocha café. Your charismatic and lively enthusiasm shined ever so bright and once Dennis and I each picked you up, you made the choice. With your beautiful bright eyes, you looked deep into our souls and choose us — it was destiny. From there, you were eager to go home — your home.
At first you were a challenge, you were one of the wildest creatures we ever encountered — but that's one of the many reasons why we loved you so much. Dennis and I spent countless seconds, hours and years watching and caring for you … We saw your character bloom and mature into one of the most beautiful personalities I ever encountered. One look into your bright and kind eyes would settle any squabble. Mocha … Your perspicacity is beyond any normal fuzzy — you knew … You knew when one of us was having a bad day. You knew exactly how to cheer us up — you had your own formula; either by making us laugh, snuggling up with us or leaving a surprise behind the door. You always succeeded in putting a smile on our faces. In this sense, your entire being is something truly special … a being so special it's rare.
You were absolutely perfect around children and strangers. You never nipped, bit or scratched anyone … even when we annoyed you. You never held a grudge. As a result, you left a lasting impression on every single person you met …
But now … you're gone … and now I have a gaping hole in my heart. Not a day goes by where I don't think of you. I miss your so much … I miss all the things I took for granted … I miss you by our side. I miss you by my side. I miss feeding you. I miss cleaning up after you. I miss your warmth. I miss your love. I miss looking into your expressive eyes. I miss hearing your bell. I miss hearing your footsteps. I miss you waking us up. I miss you loudly drinking water. I miss everything about you.
I miss you so much…I can't believe you're gone.
We love you Mocha … I love you Mocha. You are too special to forget. You were my first fuzzy … my first baby … Mocha …… By God's side … in heaven …and one day, someday we'll reunite and that's when I'll be whole again.