by Dave Jenkins
(Hendersonville, TN USA)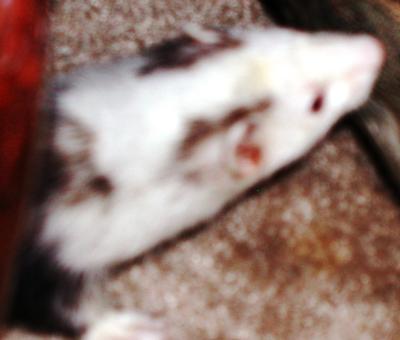 Hi,
I am a first time owner of two ferrets, one of which I rescued and another of which I adopted from a ferret shelter.
When I first laid my eyes on the little white bundle of ferret joy I almost stepped on her on my welcome mat. Thinking she was instead a nasty possibly rabid opossum baby I kicked her over on her back once then recognized her for what she was. She seemed to look up at me and through her eyes say, "its 90 degrees out here and I am overheated and so please mister don't hurt me any more."
I gathered her up, took care of her for a week or two while searching for her lost owner (was I ever naive). Turned out her loving owner had put her and her male playmate out in their Ferret Nation condo next to the apartment complex's dumpster in broad midday sunlight in 92 degree weather with 80% humidity.
These poor ferrets were teased and prodded by the complex's contingent of children who finally let them go. The male we think did not make it and the female I named Tina after Tina Turner for her dancing antics.
Anyway, that day I was late for work and a ferret was the farthest thing on my mind that morning…being late was on my mind.
Something in Tina's little beady eyes, however, tugged at me and so I got suckered in to keeping her. My forelorn cat of 11 years (also a rescue animal) looked on as though I'd lost my mind. She'd look at the ferret and then back up at me and she seemed to be saying with her eyes "so is this dinner or what…if it ain't, it ain't staying the night….we got a good thing going here so don't muck it up with this skinny rat."
I contacted a ferret rescue shelter and went to see the guy. I was prepared to surrender her but he offered me a cage if I'd keep her, so I left with a cage and deepening sense of commitment to this small furry animal. Months followed weeks of day in and day out caring for the "little one" as I referred to her.
Everyday she seemed to invent new games for us to bond by and my wallet got steadily lighter as I bought accessories, toys, foods, medicines, vitamins, shampoo, brushes, etc. The relationship between me and my cat Purdy seemed to suffer as I barked at her in hindsight sometimes too sternly to give the newcomer a wide berth.
Purdy ran off one day about two months after the ferret first arrived. The apartment complex's children found her and worked to coax her back but to no avail…she was showing me she could make it on her own. One week later she turned up on my doorstep and my grief turned to anger then subsided to an understanding that I would not praise the little one if she would not give me a heart attack by running off again.
Of course Purdy's return after a week out on the road brought a new house guest to us all…the venerable flea and her many splendored cousins. Getting this house guest to leave would be more difficult and costly. My cat is extremely allergic to flea bites and so steadily she got to the point of near death with asthma-like symptoms requiring about $250.00 worth of treatment.
Meanwhile, the ferret Tina got steadily older and quite healthy. She learned to get in and out of her cage by herself, when to wake in order to catch some R&R with me, and soon after a trip to the vet, I learned she was only about 6 months old. I had found her as a baby or young kit. She was indeed lucky to have survived the diarrhea, appetite loss and dehydration she'd endured.
Fast forward to last week…I noticed she interacted with me like I was just a large version of herself. I felt she needed a cage mate to share time with while I worked all day. SO, I called my old friend Tim at the Ferret shelter and he said one of his two female cage mates had died of old age (6 years old). He offered her to me with her double decker cage so she could have another ferret in her remaining life (she is about 4 years old). Today I picked her up and transported her and cage to my apartment.
She is of course an adult ferret and kind've gentle and no nonsense, although I did hear her dook a bit while running around with my youngster. She did scrap a bit with her and established herself as the alpha female.
Funny how I noticed a bit of a twinge of protective heartbreak one usually reserves for a child..I actually felt bad that Tina was discovering she wasn't the biggest kid on the block and that even though she was here first, she must share with the newcomer.
Now I haven't renamed the newcomer ferret yet, she was named by Tim the shelter operator, "White Fir". I may want to change that later, right now I am just observing them both to see that it will work.
I haven't struggled to bring a ferret through a deathly illness nor suffered the heartbreak of loss yet and I hope I don't have to for a while. My cat Purdy's recent close call has been enough of a scare for me lately. She's been there for the loss of both of my parents' deaths and then a little later when my parents Yorkie Scooter had to be put down. Those three losses and she was there by me all the time.
Perhaps, one will read all this and call it so much emotional drivel, but I have found that animals are much more loyal than most people I've known, including family members. Animals love pretty much unconditionally other than for humane treatment and care.
What caused me to adopt two more little furry critters that many people, including my employers, deem nasty, stinky and rodent-like pests? …. Perhaps ferrets, hamsters, gerbels and guinea pigs are the least of his…and how could I do less for his least?
Comments for Mr. Dave Jenkins
Oct 28, 2011
EXCELLENT FERRET STORY


Hey Dave, You are a really good writer!!! What wondermous adventure. I've had 2 ferrets myself and of all pets, I think they have the best personalities. I love to watch them bounce sideways chittering their little love of life.
---
Oct 27, 2011
WHITE FERT!!!!


Thank you Dave for being A real man !! God Bless you and the kids,if you need us we will be there !! Tim Cheryl & Kids ..CFFH
---