by Melissa L. Cramer
(Johnstown, Pa, USA)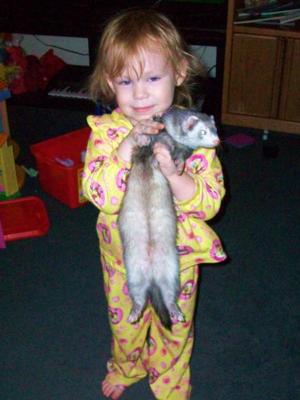 My daughter holding Slinky
I grew up mainly having "weird" pets such as mice, rats, guinea pigs, gerbils and even tarantulas.
A few weeks ago a friend of mine told me about her cousin, who no longer could care for her ferret. At first I wasn't sure if I was ready for a ferret, knowing I have a 7 year old son, a 2 year old daughter and 3 pet rats.
I thought for about 2 days and in that time I read about them. I knew I could make it work. The other fact that I knew I could help this little animal is that he was already updated on shots and was fixed. Him and everything he had was "FREE", cage and all, was very nice too.
I got the cage all set up and watched to see how his toilet habits were and then I was relieved. I let him have an adventure in his new home and at first my kids were afraid of him because he had that "attack" look when he was playing.
I named him Slinky cause of the way he looks when he walks and runs around. We have had many laughs and he is very happy in his new home. He sometimes would rather sleep in my laundry basket than in his hammock. He is almost 7 months old and I'm planning on getting him a playmate. I really like the Albinos.
Comments for My first little ferret
May 19, 2010
My First little ferret


Well he's a very lucky little guy to have found a good home.

I have 4 little furbuts at the present time. I love mine to death & knowing what kind of trouble they can get into, how fast they can vanish from our sites, I feel the need to warn you about the laundry basket. So many ferret have been killed by people not checking the clothes before loading them in the washer.

I hope you & Slinky have a great time & you do get him a playmate soon – the more the merrier.

Enjoy your sweet Angel.
---