by Crystayl
(elk city oklahoma)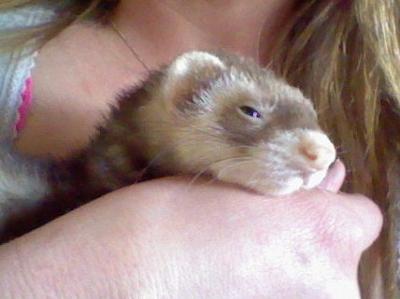 My little lucky charmed I love until we meet again
My baby girl was almost 3 and I just received the call from her vet. She passed away this evening sometime around ten pm.
She had adrenal surgery yesterday after a long and hard 10 month fight with vet after vet telling me that she did not have adrenal tumors even though she had all the classic signs. I begged the vets to listen to me and if they just had, my little girl would still be here today.
She was a fighter – she had fought for life time and time again.
The vet asked me to please let her stay and against my better judgement I let her. I knew there was one thing i didn't want and that was for her to die alone and that is what happened. My little girl went to the Bridge all alone.
I just want everyone out there to know she was a great baby all the way up till the end. She was always very excited when I would even walk into the room, she would poke her little head out and she loved to curl up on her mommy's chest and take a little nap. She always had a kiss or a little dook for you, even when she felt so bad.
She has left a hole in my heart that will never heal. I miss my little Charmed, my baby girl. I need and want her here so bad 🙁
For my little Charmed
There you go again, little tracks upon my heart,
You look up at me and set my heart a patter.
I know you're sick and hurting but you're still there with a little lick to let me know it's okay
I watch you curled in my arms asleep,
I look at your little nose that once was so pink
You took a piece of my heart the first time I held you and now, as you lay here dying, I know that piece will go with you as you journey on to the next place.
I know you will be waiting for me when it's my time to go.
Your name was Charmed but if you knew the truth, I was truly charmed for having you in my life.
You allowed me in your special little world and that I never will forget.
I will always love you, my little lucky Charmed.
Until we meet again across that Rainbow Bridge I love you always.
Good night, my special little friend, momma loves you forever.