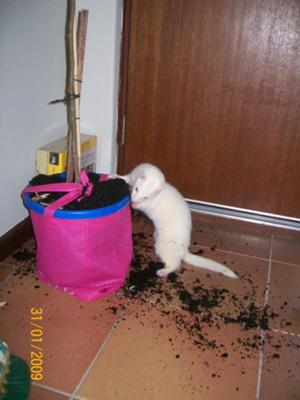 Little devil 🙂
I have a one year old ferret named Boodie (also called Dookie at times).
I can't believe how much fun it is having a ferret as a pet – a lot of people think they are going to be the size of rats and boring but once they meet him they fall in love!
He needs to be watched constantly.. He got out of my sight for less than ten minutes and decided he wanted to play with my Grandma's new rose… uh oh! But he is too cute to get angry at! 🙂
I hope to get many more cos my little guy makes me so happy!
Comments for My little terror
Jan 10, 2010
Boodie


Loved the picture of Boodie digging in your gran's rose plant! Aren't ferrets just the best little things on this planet? Your Boodie sounds like a bundle of fun 🙂
---