by Dave Jenkins
(Hendersonville Tn)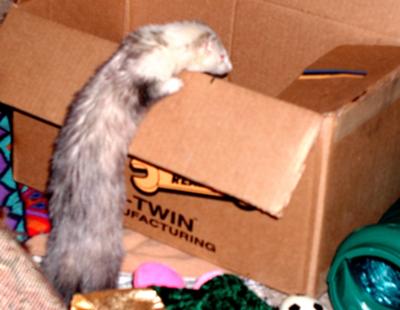 Tina on the Prowl
I just added my third recue ferret to my family in December and now all three seem to have much more energy when playing and generally seem happier in like company.
My first rescue is Tina, a ten month old abandoned female panda named Tina after Tina Turner for her dancing antics. The second rescue was White Fir, a four year old sheltered female albino and finally ten month old Timi, a sable male rescued from a pet store in my home town.
All of these little ones were brought into my home in just the last eleven months. I had never before last spring even thought of owning a ferret but once I endeared myself to that first little girl, rescued literally on my doorstep, I was hooked. These three little ones along with my eleven year old indoor cat now are my family.
I am a busy musician and still I find time to clean the cages and toys and hammocks weekly, change the food and water daily and inspect and play with these little ones. I find ferrets antics to be hilarious and I spend a great deal of time photographing them and video taping them.
All three have taken readily to litter training and with the bribe of treats (all three prefer different types of treats) they are learning tricks. I am working on getting the two females to learn patty cake poses. The trick is getting them to remain in pose until I can get a photo.
Well, this is my verbose response to being a first time ferret owner. I enjoy my little ones and the better life I am giving them and I can recommend to all who have the patience and financial capability to rescue one when possible.
Comments for My new family of rescued little ones.
Mar 19, 2012
Your new family


I think it's brilliant that you gave those gorgeous ferrets a forever home with you!

Love the pictures – they look like they're going to keep you on your toes with all the mischief they might get into – LOL!!

I wish your babies many healthy years ahead and I wish you many years of love and laughter with them!

Good on you! Wish more people were like you 🙂

~CJ
---