by linda
(colorado)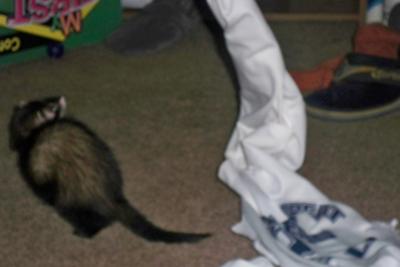 As I speak they are causing all kinds of havoc in my house. We just got a new desk which means a new box to play with of course.
They are definitely worth everything in the world to me.
They are just like real kids to me and I love them more than anything
Comments for My three children
Dec 14, 2009
My Three Children


Oh Yes !! I do know what it's like to have two then 4 then 5 Ect: There's never a dull moment when they are up & playing. Love the way they find the simplest things to get excited about. They are just like having small children, but these kids never outgrow the playfulness.
Happy to meet you & Your sweet babies.
---
Dec 14, 2009
Ferret kids


I started out with 2 and ended up with 4 Ferrets and they are more fun than I could ever imagine. I agree about causing chaos they have to check everything out, twice or three times if possible and they can get in the weirdest places.
---