by Melissa
(Oregon)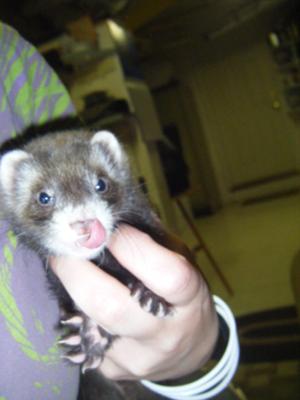 Gizmo
We have two males, Gizmo and Gremlin.
No matter what method I have tried, they just don't want to go in their littler box. They do it in their cage, just not outside it. They will even go right next to the litter box, just not in it.
They are so cute and fun to play with.. I am very glad I got them!!
We did get ours at Petco which they had their shots and they were both fixed.
Oh and they love feet! lol
Comments for Oh potty training
Jul 02, 2009
its me


Thank you so much … they are potty trained – yay – and we found out Gizmo is a girl. Petco lied. Lol
---
Jun 03, 2009
potty training


He sure is a cutie !!! Everyone is right, sometimes it just takes a few times of placing them in the box. One more hint. Most Ferrets will go to the bathroom about 15 to 20 minutes of awaking. So maybe if you just watch them after they first wake up, it might help speed up the training process.
Good luck
JC
---
Jun 03, 2009
try this


I would try training them by putting their poop from other places..in the litter box..that should help them see that is where they go..

The other thing is to catch them backing up and put them in the litter box.
Hope these help :o)
---
Jun 03, 2009
hopeful


Hopefully they will potty in their litter box soon….he's so cute
---