by Torie Culbertson
(New Jersey, USA)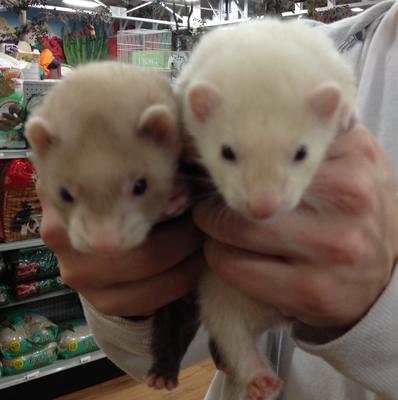 Boy on left and girl on right
My husband and I have always wanted a ferret, but growing up our parents never approved.
Well today we finally were able to get not only
one but two baby ferrets. So far so good but it is still the first day. We have a cat and dog they don't seem to mind the babies. They are such a great addition to our little clan.
We have a male and female, both came fixed and scent glands removed. From what we can tell from the paper work, these little darlings are around 19 days old.
We are still learning and I am reading everything I can to better prepare (hence finding this site)
to make our lives easier and to ensure a safe happy home for our new editions.
Still working on picking names and will take more time to get the little girl from biting too much but all in all my husband and I can not be more happy and excited to have these darlings in our lives.
Thank you for the information on this page and I will for sure join the forum here because I will need all the help I can get! 🙂
All smiles
Torie
Comments for Our 2 newbies!!!
Mar 04, 2013
Your babies are beautiful 🙂

Hi Torie
Thanks so much for posting about your new family members – they are so adorable!! You and your husband are very lucky as I think you've both become what I am … a slave to my ferrets!! LOL!!I doubt very much your babies are 19 days old – they're about half the size of a hot dog at that age, blind and without any fur! They start to look like ferrets when they're about 5 weeks old ;)I know that ferrets are sold pretty young in the States – perhaps too young, at 7/8 weeks – so maybe your guys were older … like 19 weeks? Whatever, they are seriously gorgeous!

Big hugs to your dynamic duo 🙂

Cheers

~Nona
---
Mar 04, 2013
Oops

I need to correct something in my story. I misread my ferrets paper work, (new owner, still learning)!! My babies are not 19 days old they are around 2-3 months from what we can tell. Sorry for the mistake.
---