by April LeRoy
(Tampa, Fl., USA)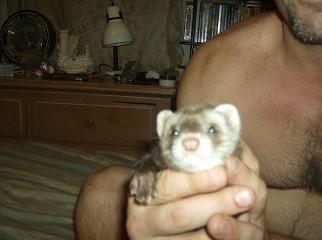 This is Princess
My family and I just adopted a Ferret from the Animal shelter. She was going to be killed, so my family jumped in and saved her.
Princess, is a very happy young adult female Ferret. We spend a lot of time with her. She is so energetic. She is just too cute for words.
Thank you for having this site to help my family to be a more responsible Ferret owner. Our Ferret is happier now that she has the proper diet, toys, and lots of loving care.
Thank You!
~April LeRoy~
Comments for Our Ferret , princess
Sep 01, 2009
My Princess


I want to thank everyone for commenting about my little princess (Ferret). She is a very happy girl. She has all the toys a Ferret can ask for. She has a two story cage.

Love to all!

~April~
---
Aug 31, 2009
Princess


Your Princess is a beautiful looking girl – I am so glad to know that she found a good home with people who love her!

I'm sure she'll have a fabulous life with you and your family 🙂
---