by Rosie Womack
(St. George, utah,USA)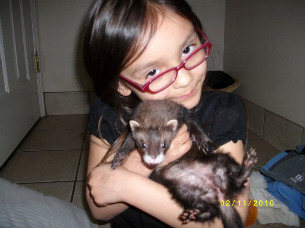 Lily & Spaz
My name is Rosie and we live in ST.GEORGE, UTAH. USA.
We purchased our little bundle of fur in January – her name is Spaz. We had a ferret previously and we just absolutely fell in love with the critters! His name was Beavis and he was the snuggliest ferret ever but of course he passed away. He was an old ferret whom we had a long time. So, we finally decided many years after Beavis to get another one.
Well so far she's been a joy. She, of course, loves socks and flip flops. And tunneling through the clean laundry basket! Also she loves chasing the vacuum and playing with us on the couch!
I've come into this group wanting to learn more about ferret history and how to take care of them and what to try to make her life a more satisfying one. I love all the info I have read so far and I am glad to be part of this forum!! Keep up the good work!
And if we intend on breeding what to expect- we would love to have some adorable little pitter patters around the house!
Spaz has a face no one could deny and with those little teddy bear ears, she's our little baby! Well that's what my 6 year old calls her. Thanks for the Information!
Sincerely,
Roseanna Womack
Comments for Our little Spaz Womack 🙂
Sep 23, 2010
The adorable Spaz


That is one cute fuzzy and, of course, you know you can never have just one….!
---