by Alexanne
(St-Hyacinthe, Québec, Canada)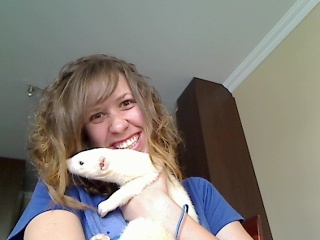 Me and Pantaleimon, couldn't be happier 🙂
Hi there!
I am a first year student in Veterinary Medicine. We have 3 Refuges at school, one for cats, one for dogs and one for small mammals.
I have met two wonderful ferrets in September and have since then been in love with them. A week ago, the Refuge got a new ferret, found in the streets wandering, very gorgeous looking.
He is lucky to have been lost in summer, if I can say that being lost is a lucky thing, but our winters are cold in Canada. I hope he hasn't been on the streets for long.
Anyways, I've been fostering him for a week now and absolutely love him. I have decided today to keep him and I couldn't be happier. He's a great ferret.
From what I heard from friends and websites, ferrets love to nibble toes and steal things. This little guy doesn't seem to give a care about toes and only steals his own toys to store them somewhere I can't get to. I don't mind too much 🙂
I have two cats, 2 rats and a snake. The ferret hasn't met the snake nor the rats and I don't plan on doing that any time soon. But the cats love him! He is absolutely hilarious and my female cat is especially keen on chasing and being chased by my dear Pantaleimon.
Thanks for all the info!
By the way, what does BEW mean?
Comments for Pantaleimon, my new adult furry thing
Jun 08, 2010
Congratulations on your Career & The Ferret


This was a wonderful story. To be able to do what you do is the most wonderful gift. You are a very caring and loving person.

My aunt Kristina Noe was going to be a Wildlife Rescuer in Pennsylvania. On her way there she was tragically killed by a drunk driver.

My aunt loved what she did. I can only guess you love what you do. You're giving back to Mother Nature.

Be proud of yourself for who you are and always be yourself. GOD BLESS YOU!

Sincerely:
April Le Roy
---
May 22, 2010
Pantaleimon,my new adult furry thing


What a beautiful story & I love happy endings. He's one lucky ferret to have found such a good home. He is a beauitful baby. I have 4 at the present time & can tell you that they are pure love & you become their slave, so to speak. Enjoy him – you will never be sorry you saved this sweet creature.
---
May 22, 2010
Pantaleimon


Your Pantaleimon looks like he's a BEW (black-eyed white) or, as they are known in the States, a DEW (dark-eyed white).

He was a very lucky ferret to be found and brought to you and you're in for many years of laughter and love with your new friend!

Enjoy 🙂
---