by Bev Pugliese
(Garson, Ontario, Canada)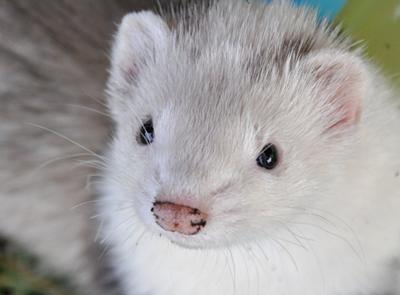 Peanut was my little angel without wings. He was sweet, loving, easy going, had this silly little dance, was patient and gentle. When he came home with me, he was small with very thin fur, was deaf, and had a terrible cough and intermittent digestive issues. He was challenged from the day I purchased him – or rescued him, as I always thought.
After several trips to the vet, his health improved and during this past summer, he was sporting a beautiful, thick coat of fur and digging in every garden he came in contact with. He walked with his buddy Perry on the lakefront boardwalk at Science North greeting everyone who stopped to pet him, ask questions about him or take a picture.
In October 2010, he began a fierce battle with IBS. Weeks of antibiotics and steroids did very little to ease his pain or illness but he forged ahead taking water and homemade Duk Soup through a syringe, snuggling with me and laying quietly while his buddy Perry gently groomed him.
On Dec 4, 2010, at just nine months old, Peanut lost his battle, dying quietly in my arms and leaving for the Rainbow Bridge taking a piece of my heart with him.
I love him and miss him terribly but feel blessed for having him. His buddy Perry continues "the dance" and has reaped the benefits of a wiser and more attentive owner.
Carry on my sweety.