by lisa
(shropshire/england)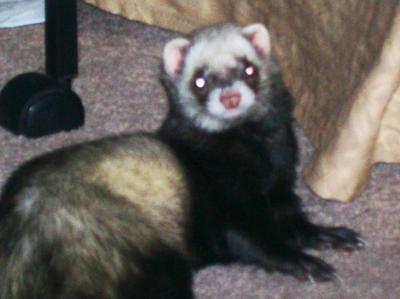 Well, my ferret Flossy was 11mths old and got under the sink where she found an unopened packet of wallpaper paste.
All of a sudden i heard her vomiting. I rushed her straight to the vet – she had eaten it. She was put straight on a drip then passed away 2 days later.
I'm devastated my baby has died. She had great personality and I love her loads. She will be greatly missed.
Comments for poisonous products
Apr 20, 2008
Loss


So sorry to hear about your loss of Flossy. I know just how painful it is to lose a baby.

I have two babies ( Trouble Bubble & BoBo) that I couldn't keep out of anything. I ended up having to buy little door locks ( The sliding bolt type ) for all my cupboard & even drawers.

Our prayers & thoughts are with you.
Love JC & Kids
---